GALATIANS 2:20 (KJV)
I have been crucified with Christ; it is no longer I who live, but Christ lives in me; and the life which I now live in the flesh I live by faith in the Son of God, who loved me and gave Himself for me.
Get groceries, water the plants, call the plumber, get the oil changed in the car . . . These are the kinds of things I have to remember each day, in addition to the details of running a counseling office. Fearing that I must remember it all and knowing that I can't creates worry and stress, yet it's something that most of us deal with every day. That's why I keep paper and pencil handy. I know my brain won't remember it all!
The good news is that there are some other things that I need to remember every day that don't cause stress! In fact, seeing who I am in Christ, and focusing on some of the things He does for me brings calmness and peace to my heart and mind. Ah! Now that's what I need!
• I am a child of the King. I have nothing to fear. (John 1:12)
• I am freely and lovingly forgiven because of what Christ did for me. (Ephesians 4:32)
• His resources are totally at my disposal. He has all I need for every need. (Psalm 23:1, 6; Philippians 4:19)
• I am loved with God's everlasting love. (Jeremiah 31:3)
• I am free from condemnation. (Romans 8:1-2)
• I am a conqueror–an over-comer. (Romans 8:37)
• I can do all things through Christ who gives me strength. (Philippians 4:13)
• Nothing can separate me from the love of God. (Rom.8:35-39)
• All things work together for good, conforming me to the image of Christ. (Rom. 8: 28-29)
• I am complete in Christ. (Colossians 2:10)
Remembering these things gives me the boost I need to face any day, no matter how challenging or difficult. They remind me of my true Source of hope, strength and courage. By His Spirit, He lives in me. How do I know all these things? The Bible tells me so–and that's that!
Lord Jesus, it amazes me how much better I feel when I turn my focus away from my problems and challenges and onto You. Help me to remember what you've done in my life. Please saturate my mind today with truths from Your Word today.
— By Ann Shorb
Copyright Ann Shorb, 2017
Scripture taken from the King James Version of The Holy Bible.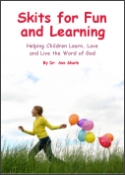 Skits for Fun and Learning
Skits for Fun and Learning is a collection of 15 puppet scripts and 5 articles on the subject of success with puppet ministries. The articles and scripts have been written by Dr. Ann Shorb and the book is available for purchase as a paperback, or as a PDF download.