COLOSSIANS 2:6-7 (NKJV)
So then, just as you received Christ Jesus as Lord, continue to live your lives in him, rooted and built up in him, strengthened in the faith as you were taught, and overflowing with thankfulness. (*TNIV)
Recently we held our annual Ladies' Tea. What a joy and delight that was sampling delicious foods, sipping tea, and savoring sweet fellowship. Then it happened! One of our hostesses was filling her teapot with water from a 60-cup urn when I heard her screech, "Help!" The lever on the spout was stuck in the open position, and although her teapot was full, hot water continued flowing. I snatched a couple of empty tea cups that were sitting next to the urn, but those filled rapidly. Others ladies jumped in, shoving empty items under the spout in until they, too, were filled to the brim. We just couldn't contain all that was flowing from that spigot! It wasn't until someone came to the rescue with a huge pot that things came under control. Thankfully, no one got burned, and we had a good laugh over the spout that just kept flowing.
With that recent adventure still fresh in my thoughts, it's no wonder I started laughing when I read Colossians 2:6-7 in my devotions one morning last week! Yes, the image of ladies scurrying around filling container after container in an attempt to catch the water flowing from that urn brought to life what Paul said in these verses. As believers in Christ, we should be so thankful for being firmly fixed in Him that our gratitude just keeps flowing and flowing, so much so that it can't be contained.
I love reading Colossians 2:6-7 from the Amplified Bible:
"As you have therefore received Christ, [even] Jesus the Lord, [so] walk (regulate your lives and conduct yourselves) in union with and conformity to Him. Have the roots [of your being] firmly and deeply planted [in Him, fixed and founded in Him], being continually built up in Him, becoming increasingly more confirmed and established in the faith, just as you were taught, and abounding and overflowing in it with thanksgiving."
"Abounding and overflowing with thanksgiving," Paul said." Does that describe your faith and your life? At this Thanksgiving season, it's easy to focus on the blessings we have as believers in Christ, but Paul didn't write these words for a special holiday. He wrote them for everyday living. The key to overflowing with gratitude is having your roots firmly planted in Christ. So if you don't have that grateful heart, check your roots. Are you firmly planted in Him? Are you daily growing in Christ? Is your faith built up in Him?
Loving Father, thank You for the blessing of knowing You and for the joy of walking daily with Christ. Help me to be mindful of Your goodness in all ways and to overflow with thanksgiving.
— By Ann Shorb
©Copyright Ann Shorb, 2012
* Scripture quotation taken from HOLY BIBLE, TODAY'S NEW INTERNATIONAL VERSION® TNIV®. Copyright © 2001, 2005 by Biblica®. All rights reserved worldwide.
**Scripture quotation taken from the Amplified® Bible, Copyright © 1954, 1958, 1962, 1964, 1965, 1987 by The Lockman Foundation Used by permission. (www.Lockman.org)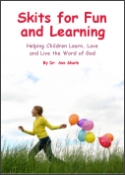 Skits for Fun and Learning
Skits for Fun and Learning is a collection of 15 puppet scripts and 5 articles on the subject of success with puppet ministries. The articles and scripts have been written by Dr. Ann Shorb and the book is available for purchase as a paperback, or as a PDF download.