PSALM 17:8 (NKJV)
Keep me as the apple of Your eye.
October is National Apple Month! Our area of south central Pennsylvania is big apple country. Every weekend this month there are special events and festivals celebrating the apple harvest, so I'm joining the festivities and sharing with you some interesting apple facts this month.
Did you ever notice that when you look into the eyes of another person, you can actually see your own reflection? It's almost as if there was a tiny person right in the center of the pupil of his eyes—it's a miniature reflection of you. Of course, you have to be standing very close to that person and you must be looking right into his/her eyes in order to see it. At that moment, you are "the apple of his eye."
The phrase "the apple of my eye" actually originated as an ancient Hebrew expression for "pupil". It literally referred to the center, the dark part of the eye that is shaped somewhat like an apple.
The earliest recorded use of the expression is found in ancient literature dating back to the 800's but it's also found in several passages in the 1611 King James Version of The Holy Bible. In all of the verses below, except for Zechariah 2:8, this Hebrew expression can be literally translated as "Little Man of the Eye," referring to that tiny reflection in the dark, central part of the eye.
Read through the verses below and you'll see that the expression generally speaks of God watching out for or protecting His people.
Deuteronomy 32:10 (NKJV)
"He found him in a desert land
And in the wasteland, a howling wilderness;
He encircled him, He instructed him,
He kept him as the apple of His eye.
Psalm 17:8 (NKJV)
Keep me as the apple of Your eye;
Hide me under the shadow of Your wings.
Proverbs 7:2 (NKJV)
Keep my commands and live,
And my law as the apple of your eye.
Lamentations 2:18 (KJV)
Their heart cried unto the LORD, O wall of the daughter of Zion, let tears run down like a river day and night: give thyself no rest; let not the apple of thine eye cease.
Zechariah 2:8 (NKJV)
For thus says the LORD of hosts: "He sent Me after glory, to the nations which plunder you; for he who touches you touches the apple of His eye.
It's obvious that just as your eyes are precious and you want to protect them, God views His people as precious and wants to guard and protect them, all because of His great love.
Over time, the meaning of the phrase "the apple of my eye" changed somewhat. Today we use it affectionately to refer to something or someone, who is to us more precious and cherished than any other. Ask just about any grandparent and you'll hear him or her say fondly, "Yep, that's my grandkid and he's the apple of my eye!"
What an amazing thought that we, who are the children of God, are the apple of His eye. We are cherished and precious in His sight. And as we gaze at Him, we can see our own reflection in the eyes of the Almighty Creator of the Universe! Close your eyes for a moment and just image staring into His eyes and seeing yourself as He lovingly watches over you and protects you from all harm. Feel His love and find comfort in His care. You are the apple of His eye.
Thank You, Lord, for this beautiful word picture.
— By Ann Shorb
©Copyright Ann Shorb, 2012
Scripture taken from the New King James Version. Copyright © 1982 by Thomas Nelson, Inc. Used by permission. All rights reserved.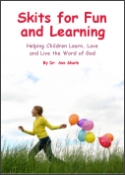 Skits for Fun and Learning
Skits for Fun and Learning is a collection of 15 puppet scripts and 5 articles on the subject of success with puppet ministries. The articles and scripts have been written by Dr. Ann Shorb and the book is available for purchase as a paperback, or as a PDF download.