Volume 263: January 30, 2011
JOHN 14:21-23 (NKJV)
He who has My commandments and keeps them, it is he who loves Me. And he who loves Me will be loved by My Father, and I will love him and manifest Myself to him."
Judas (not Iscariot) said to Him, "Lord, how is it that You will manifest Yourself to us, and not to the world?"
Jesus answered and said to him, "If anyone loves Me, he will keep My word; and My Father will love him, and We will come to him and make Our home with him.
As Jesus prepared to leave His disciples, He spent time with them alone. They celebrated Passover in the upper room where He told them of His coming betrayal and death. He explained to them that He alone is the way, the truth and the life. He revealed His connection to the Heavenly Father, and He spoke to them of the Helper who would come to indwell them. Then, Christ gave them the true test of discipleship—"If you love Me, you will keep my word."
Many times in human relationships, one person will say to another, "If you really love me you will do what I ask." Often these words are used selfishly to manipulate the other person into doing something, but the Lord didn't speak them that way. His spoke them from a heart of pure love—love that is unselfish, genuine, generous, protective and life-giving. There is no risk of being hurt, used or devalued when you follow the direction He gives to us.
Christ said, "If you have My commandments and keep them, you love me." As believers living in the 21st century, we have His commands. They are before us in the pages of the Holy Bible, but do we know them? Are we diligent in reading and studying and truly learning what He tells us to do and how we should live? We can't keep His words until we know them, so it is important for us to daily get into the Word and search for His direction, then live out what He says. It's just that simple, if you truly love the Lord Jesus Christ, do what He tells you to do.
Lord Jesus, Your Word gives me direction for good, healthy living. Help me always to live according to Your truth. Make me ever mindful that my obedience to keeping Your commandments is a true test of my love for You.
–By Ann Shorb
©Copyright 2011, Ann Shorb
Scripture taken from the New King James Version. Copyright © 1982 by Thomas Nelson, Inc. Used by permission. All rights reserved.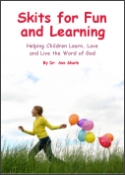 Skits for Fun and Learning
Skits for Fun and Learning is a collection of 15 puppet scripts and 5 articles on the subject of success with puppet ministries. The articles and scripts have been written by Dr. Ann Shorb and the book is available for purchase as a paperback, or as a PDF download.