HEBREWS 12:1-3 (PHILLIPS)
Surrounded then as we are by these serried ranks of witnesses, let us strip off everything that hinders us, as well as the sin which dogs our feet, and let us run the race that we have to run with patience, our eyes fixed on Jesus the source and the goal of our faith. For he himself endured a cross and thought nothing of its shame because of the joy he knew would follow his suffering; and he is now seated at the right hand of God's throne. Think constantly of him enduring all that sinful men could say against him and you will not lose your purpose or your courage. (Emphasis added by author.)
There's a candy cane hanging on a cupboard door in my kitchen. I got it at church and I don't intend to eat it. Last Sunday in his closing comments, Pastor John briefly shared the story of the candy maker who intentionally created a sweet treat that pointed to the true meaning of Christmas. When held one way, the candy stick looks like the letter J–the first initial in the name of Jesus, the Christ-child. Held the other way, the candy has the shape of a shepherd's crook reminding us that Jesus is the Good Shepherd who came to give His life for His sheep. It is colored white for Christ's purity and the forgiveness He offers us. The red is for His shed blood. One small candy tells the story of the precious Gift of salvation given to us by God the Father.
Pastor John then challenged those of us who have accepted this Gift to commit to live for Christ and keep our eyes on Him every day of 2014. Like many others in my church family, I accepted the challenge and took the candy cane Pastor offered as a reminder of my pledge. It wasn't something I did lightly, but an intentional promise that I intend to keep. To help me keep that focus, I'm going to leave my candy cane out where I can see it every day.
You don't need a candy cane to commit your life to Christ. It's only a symbol. The important thing is that you choose Jesus. Make it your goal for the coming year to "fix your eyes on Jesus" whatever comes your way. Commit to live for Him daily. In joy He will be your delight. In sorrow He will be your comfort. In trials and tribulation He will be your anchor. No matter what you face, one thing remains the same . . . the more you focus on Christ, who He is, His attributes, His love and care for you . . . the less you will focus on your problems. And that will make 2014 a very good year!
PRAYER: Thank You, Lord, for the abundance of blessings You showered on me in 2013. Even though there were many ups and downs, You never left me—not even for a minute. Truly I desire to keep my eyes on You and You alone throughout the coming year. May my life reflect Your love to the world around me so they will see You in me.
WORDS TO PONDER: "Your greatest need is not to get away from your problems, but to get into the presence of God"
–Unknown
RELATED DEVOTIONALS:
A PROMISE FOR THE NEW YEAR
As I've done before at the end of December, I encourage you to prayerfully ask God to give you a special verse or scripture passage to hang on to throughout the days of the coming year. Write it out and place it in various locations where you will see it often. Let this word from God be an anchor for you and bless you on the good days and on the day.
Remember, keeping a spiritual journal of the ways God uses this verse in your life throughout the year can be a tremendous source of blessing and hope. It will show you that God is constantly working in your life, and will encourage you keep on trusting Him.
By Ann Shorb
©Copyright Ann Shorb, 2013
Scripture taken from the J. B. Phillips, "The New Testament in Modern English", 1962 edition, published by HarperCollins. Used by permission. All rights reserved.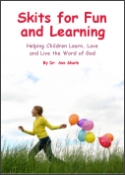 Skits for Fun and Learning
Skits for Fun and Learning is a collection of 15 puppet scripts and 5 articles on the subject of success with puppet ministries. The articles and scripts have been written by Dr. Ann Shorb and the book is available for purchase as a paperback, or as a PDF download.