MATTHEW 6:26 (NKJV)
Look at the birds of the air, that they do not sow, nor reap nor gather into barns, and yet your heavenly Father feeds them. Are you not worth much more than they?
Knowing that the Lord Jesus stated that God's greatest commandments for His people are to love God with all your heart, soul, and mind, and then to love your neighbor as yourself, means we have a big job to do! Most of us need a reality check to get our priorities lined up so we can obey these commands. But, if we look at how we are to fulfill God's direction to love Him with all we've got, we find it's not about satisfying the demands on a checklist, but rather it's about having a loving, living relationship with our Creator.
Jesus, our perfect example of One who always had His priorities straight, demonstrated the importance of knowing the Father and having an intimate connection with Him. You see, Christ's concern wasn't so much about His position with the Father, as it was about His own relationship with God. Read through the Gospel of John and notice every time Christ mentions His "Father". Count them up and you'll find that nearly 100 times the Lord Jesus uses that loving, relational title as He speaks of God.
In like manner, in The Sermon on the Mount (Matthew 5-7), Jesus repeatedly talks to His followers of their relationship with God. Fifteen times in those three chapters, Christ refers to "your Father," or "your Heavenly Father." Again, Christ's emphasis is not on our position with God, but on the close, intimate Father-child relationship that we as believers can have with Him.
But the only way to know the Father is to know the Son, the Lord Jesus Christ. In Contemplating GOD the Father, A Devotional, author Lawrence Kimbrough puts it this way:
"The Father can only be known through the Son. This is the only place to start if we want to better understand and relate to God as our Father. His love for us is so genuine and authentic, it simply cannot be trivialized into groundless acceptance or grandfatherly indulgence. He has drawn us to His side and wants us closer than we can possibly imagine. But we must never forget that we are there through Christ's sacrifice."
So if we want make loving God our top priority, we must first place our faith and trust in the Lord Jesus Christ as our Savior. He, then, opens the door for us to have a connection with the Father. From there, it is our responsibility to get to know Him. As with any other relationship, that means spending time with Him, listening to what He has to say through His Word and Spirit, sharing our thoughts and prayers with Him, and experiencing the warmth of His presence and the joy of His loving embrace.
Look at your schedule. If it's too full to find time for these things, it's too full. Believe me, I know what a busy schedule is like, but if you prayerfully ask God to show you what can be altered in your day to day routine, He'll show you. Set aside time to be with Him. Mark it on your calendar and get into the habit of spending those quality moments with your Father. It is one relationship you'll never regret!
Gracious Father, the more I know You, the more I love You. The more I love You, the more I long to serve You with all that I am and all that I have. Indeed You are my strength, my joy, my delight.
By Ann Shorb
©Copyright Ann Shorb, 2012
Scripture taken from the New King James Version. Copyright © 1982 by Thomas Nelson, Inc. Used by permission. All rights reserved.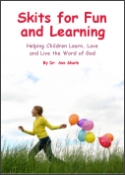 Skits for Fun and Learning
Skits for Fun and Learning is a collection of 15 puppet scripts and 5 articles on the subject of success with puppet ministries. The articles and scripts have been written by Dr. Ann Shorb and the book is available for purchase as a paperback, or as a PDF download.