GALATIANS 4:6 (NKJV)
And because you are sons, God has sent forth the Spirit of His Son into your hearts, crying out, "Abba, Father!"
Again in our Sunday school lesson this morning, we were reminded of how much the image of our earthly father affects and shapes the image we have of our Heavenly Father. For those whose dad was loving and kind, seeing God that way comes easily, but for others who had a harsh, nasty, or abusive father, seeing God as compassionate and caring is often a struggle. Even having an abusive mother or another authority figure can distort a person's perception of Him.
It's hard to imagine wanting to run to God when in trouble, or to call on Him for help in making decisions, if the person who was supposed to care for and protect you as a child let you down, or wasn't there for you. That often makes trusting an invisible God much harder. Sometimes it seems nearly impossible; however, there are ways to get past these hindrances and experience the love He wants to shower upon you.
First, remind yourself often that God is your LOVING Heavenly Father. When you pray, address Him as "Loving Father," even if at first it's uncomfortable. Over time, as your perceptions of God become less distorted, it will be easier to think of Him as devoted and kind.
Also, read and study scriptures that remind you of the way He tenderly cares for His children. See how He provides for the needs of those who trust Him. Notice how He comes to their aid time and time again.
Read biographies of many of the great saints of God. Their lives were not so much characterized by their great skill, knowledge, or wisdom, but rather by their willingness to trust God to lead and provide for them. From food and clothing to emotional support and healing, men and women of the faith have found God's provision always on time and always sufficient. Check www.christianbook.com for some great resources.
Start a prayer journal to record how God answers your prayers when you pray specifically and according to His will. It can be as simple as a paper with four columns on it. One for the date you begin praying about a specific thing; another for your actual request; the third for the answer you receive from God; and the fourth for the date you receive your answer.
You might consider keeping a praise or gratitude journal to track the good things the Lord does in your life, and what you observe of His work in the lives of others you know.
Don't let distorted images of God rob you of the warm and intimate relationship He longs to have with you. Renew your mind and reshape your concept of the One who made you and who desires to walk hand in hand with you each day of your journey.
Loving Heavenly Father, today I call on You asking that You help erase the distortions in my thoughts that keep me from seeing You as You really are. Make me aware of even the little things that You do for me each day so that I may recognize Your hand at work in my life and feel Your love.
–Ann Shorb
©Copyright Ann Shorb, 2012
Scripture taken from the New King James Version. Copyright © 1982 by Thomas Nelson, Inc. Used by permission. All rights reserved.
Perhaps someone has offended you and you know you need to forgive that person but you are having real trouble doing that. You can find some helpful information in our devotional entitled "Forgiveness," by Elaine Olson. http://ccesonline.com/forgiveness.htm.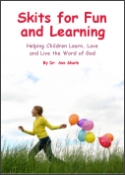 Skits for Fun and Learning
Skits for Fun and Learning is a collection of 15 puppet scripts and 5 articles on the subject of success with puppet ministries. The articles and scripts have been written by Dr. Ann Shorb and the book is available for purchase as a paperback, or as a PDF download.