ACTS 16:31
Believe on the Lord Jesus Christ, and thou shalt be saved . . .
June 2, was my birthday, but there was no cake, no song, and no gifts. It was simply a day of quiet reflection as I remembered that warm spring evening so many years ago when I gave my heart to Christ and was born into God's family. Though I was only a child, my decision was genuine and sincere.
You see, even at that young age, I realized that I was a sinner and there was nothing I could do to save myself from eternal punishment. Only as I trusted Christ's death on the cross to be the payment for my sin could I be made clean, righteous, and ready to enter God's holy Heaven. So I stepped out in faith, confessed my sin, asked Him to forgive me, and to come into my life as my Savior. And He did! In that moment I was born into God's family, and I received the promise and presence of the ever-abiding Holy Spirit.
Now I have two birthdays to celebrate—one physical, one spiritual. Every year on June 2, my heart is stirred with deep thankfulness and gratitude for the gift of salvation I received on that date. Songs of praise and worship fill my heart and mind, and I reflect on God's goodness to me.
You may not remember the exact date when you accepted Christ as your Savior, but you can celebrate anyway. Take time to reflect on that moment when you put your faith and trust in Him. Recall the awe that came from knowing you were His child, and thank Him again for the wonderful gift of life and love that He gives. And if you haven't yet been born into God's family, I encourage you to make that decision today. Don't wait. Then you'll have two birthdays to celebrate, too!
Lord Jesus, how can I ever thank You for the incredible gift of salvation that You gave to me? Help me to never lose sight of the wonder of Your love and the greatness of Your gift.
By Ann Shorb
©Copyright Ann Shorb, 2009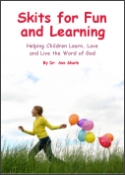 Skits for Fun and Learning
Skits for Fun and Learning is a collection of 15 puppet scripts and 5 articles on the subject of success with puppet ministries. The articles and scripts have been written by Dr. Ann Shorb and the book is available for purchase as a paperback, or as a PDF download.