Romans 3:22
The righteousness of God which is by faith of Jesus Christ is unto all and upon all them that believe . . .
"Pardon me." You know the words. You've said them before when you bumped into someone or did something that was offensive to another person. You know you're guilty of something, and you're asking to be excused from that guilt.
In Romans 1:18 to 3:20 the Apostle Paul lays out the horrific doctrine of condemnation – ALL of us are guilty of sin, and NONE of us can stand in the presence of our Holy God because of it. If Paul stopped writing there we would be without hope, but in Romans 3:21-5:11 he describes God's gift of justification. This is God's merciful pardon that comes to me the moment I place my faith in Christ and not in my own self and my own works. This pardon takes out of my account all of my sin and badness, and puts in its place the righteousness and goodness of Jesus Christ. From that moment, when God looks at me He no longer sees me as guilty; He sees the righteousness of Christ. I am pardoned!
No longer guilty, I'm set free from the penalty of my sin. No longer chained by the past or tormented by regret, I am free to live in His presence both now and in eternity. I am pardoned and I am free! Oh, that all people everywhere would cry out, "Lord, pardon me!"
Father, today I'm so aware of my unworthiness before you. I have no righteousness of my own that allows me to stand in Your holy presence. Ah, but what joy to know that the righteousness of Christ has been placed on my account and because of Him I am truly pardoned. I praise You, Lord for You have set me free.
By Ann Shorb
Copyright 2007
To learn how to have a personal relationship with Jesus Christ go to: www.ccesonline.com/4thingsgodwantsyoutoknow.htm.
For more information on how to grow in your walk with Chris, visit: www.ccesonline.com/howtogrowinyourwalkwithchrist.htm.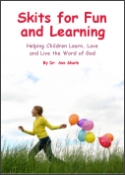 Skits for Fun and Learning
Skits for Fun and Learning is a collection of 15 puppet scripts and 5 articles on the subject of success with puppet ministries. The articles and scripts have been written by Dr. Ann Shorb and the book is available for purchase as a paperback, or as a PDF download.