JOHN 6:37
All that the Father giveth me shall come to me:  and him that cometh to me I will in no wise cast out.
The bright yellow school bus in front of me slowly came to stop—lights flashing and STOP sign extended.  As the doors of the bus flung open, so did the arms of the little girl who stood waiting in the drive way.  Her face reflected her joy in welcoming her siblings home.  Surely she had waited all day for them to return.
The neighbor children just passed her by seemingly without notice.  Then her brother jumped off the bus steps, gave her a quick glance and huddled with the other boys, refusing the open arms that she wanted to wrap around him.  Moments later the big sister emerged from the yellow bus and ran toward the little girl.  A smile broke out on her face, but it changed when big sister ran right past her before she turned and came back for a quick hug from the little one.
Then one more sibling jumped from the vehicle and ran straight to the little girl whose arms were still wide open.  Long hugs, giggles, and a walk up the hill arm in arm told of their joy.  What delight when at last someone accepted the love the little girl had to offer.
Watching this reminded me of the Savior who waits, arms open wide, for all who will come to Him.  Many pass Him by without notice,  others deliberately turn away, yet some pass by then turn to come back to His comforting embrace.  What joy for the one who runs directly into His open arms and feels the warmth of His love and the blessing of His comfort.  His arms are always open.  We simply have to come.

Lord, thank You for open arms that are always ready to receive us!
By Ann Shorb
©Copyright Ann Shorb, 2009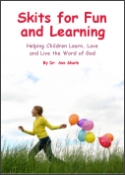 Skits for Fun and Learning
Skits for Fun and Learning is a collection of 15 puppet scripts and 5 articles on the subject of success with puppet ministries. The articles and scripts have been written by Dr. Ann Shorb and the book is available for purchase as a paperback, or as a PDF download.