I JOHN 5:11-12
And this is the record, that God hath given to us eternal life, and this life is in His Son. He that hath the Son hath life; and he that hath not the Son of God hath not life.
There they are, laying neatly on the counter–two life insurance polices waiting to be delivered. In the next few days, my husband will take them to those who purchased them, and the individuals will rest a bit easier knowing that when they die, their loved ones will be cared for. These folks are preparing for the future by the choices they make today.
There are a lot of different companies that offer this type of protection.  It's a good thing, but I've often wondered why they call it life insurance when you can't use it until you die! The only true life insurance is found in the Lord Jesus Christ. He provides a way for us to have life eternal after we leave this physical life.
The apostle Paul wrote, For all have sinned . . . the wages of sin is death; but the gift of God is eternal life through Jesus Christ our Lord, (Romans 3:23; 6:23).
You see, after you leave this life there are only two options: Heaven, which is eternal life with God, or hell, eternal death separated from God. In order to receive God's gift of salvation from death and have eternal life, you must stop depending on yourself to earn it. First, agree with God that you are a sinner and cannot save yourself. Then ask for God's forgiveness from all your sin, and accept His gift of salvation. You can read more about how you can receive Christ as your Savior from sin and eternal death at Four Things God Wants You to Know.
The thing is, you have to make that choice now; you can't wait until you die to decide. It's kind of like buying insurance, you can only prepare for the future by the choice you make today.

Heavenly Father, thank You for the gift of salvation and the benefits yet to come.
By Ann Shorb
©Copyright Ann Shorb, 2009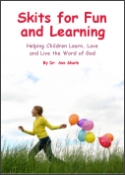 Skits for Fun and Learning
Skits for Fun and Learning is a collection of 15 puppet scripts and 5 articles on the subject of success with puppet ministries. The articles and scripts have been written by Dr. Ann Shorb and the book is available for purchase as a paperback, or as a PDF download.