Psalm 146:5
Happy is he that hath the God of Jacob for his help, whose hope is in the LORD his God . . .

I Peter 3:15
But sanctify the Lord God in your hearts: and be ready always to give an answer to every man that asketh you a reason of the hope that is in you . . .
He was a scruffy looking fellow sitting in his wheelchair near the exit at the grocery store. Grey hair poked out in all directions underneath his tilted baseball cap. The thing I noticed most about him, however, was his look of discouragement and disappointment. Then I saw the lottery tickets in his hand. He looked down at them and shook his head sadly. Obviously his expectation of winning had been dashed, and he went from hope to despair with just the swipe of a coin over that little silver patch on his ticket. My heart went out to him partly because of his physical condition, partly because of his apparent financial hardship, but most of all because his hope rested on the shaky ground of chance and lottery tickets.
How thankful I am to know that there is a God in Heaven who gives us a hope that is solid and secure because He is steadfast and sure. He is the One who has unlimited resources to meet every kind of need we ever could have. He is the God who is always available to those who call upon Him.
As I passed the man, my hands were full and so was my schedule. I'm ashamed to tell you that the thought of stopping to give him a gospel tract never crossed my mind. I could have just put my things in the car and gone back, but I didn't. I missed the opportunity to tell him about the blessed hope we have in Christ; so now I pray for him, asking God to reveal Himself to this man through some other person or means so that he will find new hope in Christ.
Lord God, forgive me for being too busy. Help me to be sensitive to the needs of others, and to take advantage of the opportunities to share the good news of Jesus Christ that are in front of me every day.
By Ann Shorb
Copyright 2007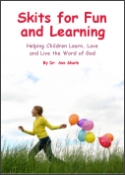 Skits for Fun and Learning
Skits for Fun and Learning is a collection of 15 puppet scripts and 5 articles on the subject of success with puppet ministries. The articles and scripts have been written by Dr. Ann Shorb and the book is available for purchase as a paperback, or as a PDF download.