Last September one more counselor joined our staff to complete our team. Her name is Cindi Wilmot and she is a delightful addition to our work and ministry. Cindi is a wife, and a mother to six children. You can read more about her at our staff page. Here's a devotional she wrote just for you, our weekly readers.
John 3:16
For God so loved the world, that He gave His only begotten Son, that whosoever believeth in Him should not perish, but have everlasting life.
My daughter's friend, Christian, sat in the back of the van with our kids, laughing delightedly and making everyone around him smile and chuckle with his nine-year-old humor and energy. "This is what it would be like if the Lord had spared our son", I thought wistfully.
Christian is just a year younger than our Daniel would be had he lived past the gestational age of 17 weeks. It was one of those "what if" moments that we all have when someone we know has passed away. It might sound strange, but I always appreciate the gentle reminders of Baby Daniel leaving us far too soon and just a week before Easter.
Romans 6:31-32 says, "What, then, shall we say in response to this? If God is for us, who can be against us? He who did not spare His own Son, but gave Him up for us all – how will He not also, along with Him, graciously give us all things?" Having unwillingly given up a son I never really knew, it is impossible for me to fathom a God who would WILLINGLY give up His Beloved Son, send Him to earth and allow Him to die for sinful people. Even more amazing is that is just the beginning of all of it! He chooses to live in and through our sinful selves by His Holy Spirit. He is now preparing a place for us so that we can spend eternity with Him. He promises He will never leave us or forsake us! Praise be to God for His unselfish love!
Heavenly Father, Your love amazes me! Thank You for willingly giving us the precious gift of Your Beloved Son, the Lord Jesus Christ.
By Cindi Wilmot
Copyright Ann Shorb, 2008
I Saw the Lord: A Wake-Up Call for Your Heart
By Anne Graham LotzI saw the Lord is a wake-up call for Christians everywhere. Anne Graham Lotz knows from personal experience what it's like to be floating along in a sea of complacency. The revival we need today is not a tent meeting but a life-changing, fire-blazing revival; a fresh commitment to holiness. As you read this book and hear the wake-up call, get ready for the fire of revival to fall on you!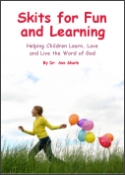 Skits for Fun and Learning
Skits for Fun and Learning is a collection of 15 puppet scripts and 5 articles on the subject of success with puppet ministries. The articles and scripts have been written by Dr. Ann Shorb and the book is available for purchase as a paperback, or as a PDF download.