HEBREWS 13:18
Pray for us . . .
JAMES 5:16
The effectual fervent prayer of a righteous man availeth much.
Looking at the calendar, I'm reminded that March is an anniversary month for Christian Counseling & Educational Services. While our practice actually started in February of 1997, it was in March that we began our Tuesday morning Bible studies and also established our Prayer Board. Thirteen years ago when I opened CCES, I asked a group of nearly 20 personal friends to pray for our work and ministry. After all these years, four of them still remain as our prayer warriors. To Nancy, Charlotte, Diane, and Grace we send a special thank you for your faithfulness over these many years. Other ladies in our group have served for a long time as well. Thank you all! You deeply touch the lives of our staff and so many of our clients.
That's the way prayer is. These friends never sit in on a counseling session, nor are they even  in our building. They never know the names of our clients because we are extremely careful never to give any names or revealing details about the requests we make, yet our faithful Prayer Board members take our concerns to our Heavenly Father and lay them at His feet. He knows exactly who they pray for and He holds all the answers in His hands. While they pray, God works in our lives in the lives of those who come to us for help.
You can do the same for someone else. You can touch a life from right where you are by simply remembering that person in prayer. You don't have to know all of the details of what is going on in his life in order to ask God to bless and meet his needs. Often I hear people say, "At my age there isn't really anything I can do for God any more," or "My health keeps me from actively serving God." But you can serve Him and others by praying! Every believer has access to the Throne of Grace and can bring not only his or her own needs before the Lord, but can intercede on behalf of others. It's a tremendous help, support and blessing to others when you do. Join hands with God and become a regular prayer partner for a friend or a particular ministry. The rewards are unlimited for everyone involved!
Beloved Father, thank You for the blessing our dear Prayer Board members have been to us and to our work and ministry over these many years. Bless them for their faithfulness we pray.
By Ann Shorb
Copyright 2010
For more devotionals on prayer please see: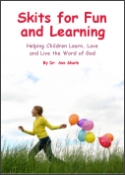 Skits for Fun and Learning
Skits for Fun and Learning is a collection of 15 puppet scripts and 5 articles on the subject of success with puppet ministries. The articles and scripts have been written by Dr. Ann Shorb and the book is available for purchase as a paperback, or as a PDF download.