Proverbs 18:24
A man that hath friends must shew himself friendly.
Eight- year-old Natalie was visiting a church she'd never been in before, meeting people she'd never seen before when after the worship service she turned around and said to the girl behind her, "Hi, my name is Natalie. What's yours? . . . Want to be friends?" The little girl nodded and they were friends, talking and sharing the moment.
Of course, this friendship only lasted a brief time, but everywhere she goes Natalie has friends. It's because of the way she treats others. She reaches out with smiles and kind words to everyone she meets, and if she senses that there's a need, her caring and compassionate heart wants to help. What an example this young child is to the rest of us!
Too often as adults we let our memories of past hurts and fears of possible rejection keep us from following Natalie's example. We let the risks outweigh the possible good, but I think that if we try being friendly we'll find it's less intimidating than we thought.
Why be friendly? It makes the other person feel good, it makes you feel good and it's a reflection of the character of God. Of course, there are various levels of friendship and there will only be a few that enter that inner sanctuary of your soul, but treating others in a friendly and courteous manner is something we can do to all of the people who come across our path. Sometimes that will lead to a deeper relationship. It's true, if you want to have friends, be friendly. Just look at Natalie – she's living proof!
Lord, thank You for Natalie's example. Wherever I am, help me to treat others in a friendly and courteous manner just as she would.
By Ann Shorb
A special thank you to Natalie's mom, Sharon, for allowing me to use Natalie's picture.
Copyright Ann Shorb, 2007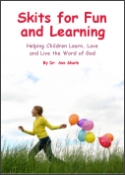 Skits for Fun and Learning
Skits for Fun and Learning is a collection of 15 puppet scripts and 5 articles on the subject of success with puppet ministries. The articles and scripts have been written by Dr. Ann Shorb and the book is available for purchase as a paperback, or as a PDF download.