Hebrews 10:24
And let us consider one another to provoke unto love and to good works.
As I sorted through the mail the other day, a pretty pink envelope stood out from the brightly colored advertisements trying to grab my attention. Immediately I recognized the handwriting and the warmth of friendship swept over me. Inside there was a lovely card and a brief handwritten note that held a large message of love and appreciation. It came at a time when I needed a word of encouragement.
Isn't it exciting when that happens? When a co-worker gives you a pat on the back when you're feeling down . . .when a friend puts his/her arm around you when you're hurting . . . when someone says I'm praying for you when you're confused or afraid . . . when you get an invitation to lunch when you're lonely . . . when you feel so far away and a family member calls to see how you are . . . these are the times when that small act of kindness means the world to you.
So, since you know how good it feels when it happens to you, why not reach out and encourage someone else today? There are a thousand ways you can do that, but right now from your computer you can send an email message or a card just to let someone know that you are thinking of him/her and that you care. (You can send cards to your friends and family be email through our website.) You just might make a world of difference in another person's day. The pretty pink envelope that came in the mail this week did that for me. Thanks, Denise, for the beautiful card!
Father, thank You for a friend who took the time to encourage me. May I do the same for someone else today.
©Copyright Ann Shorb, 2008
Easter Puppet Script Available
A new puppet script has been added to our website for free download. The script aims to remind children that the same power that raised Christ from the dead is available to them every day to help them solve their problems. Please feel free to use this for your church or ministry, or at home with your family. It can be used with puppets or acted out by children. Get the script here.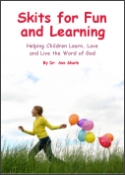 Skits for Fun and Learning
Skits for Fun and Learning is a collection of 15 puppet scripts and 5 articles on the subject of success with puppet ministries. The articles and scripts have been written by Dr. Ann Shorb and the book is available for purchase as a paperback, or as a PDF download.