PHILIPPIANS 1:3 (KJV)
I thank my God upon every remembrance of you . . .
Last Monday was the 100th anniversary of my father's birth. In honor of the occasion, my husband and I returned to my hometown in northeast Tennessee to celebrate the 85 years Dad lived on this earth. Like many small towns, the downtown area that was once the hub of shopping and professional business is now full of novelty shops, antique dealers, and small cafes. It's an interesting place to visit and leisurely pass the time.
On Saturday we shopped for antiques in the place where Dad used to buy hardware. We ate lunch in a quaint little café housed in the building where he bought his clothing, and peeked in the window of a photography shop that once was the drug store where folks gathered at the soda fountain for a treat. As we walked by the building that had been the five-and-ten-cent store where my parents first met, I could hear my dad singing the old song, "I Met A Million-Dollar Baby in a Five-and-Ten-Cent Store". It's true!  That's where my mother and dad were first introduced by a mutual friend. That evening Dad took her to the movies to see Tarzan, and then they spent the next sixty two years of their lives together.
I was reminded just how beautiful this corner of Tennessee is as we gazed on the hills my father saw every morning, marveled at the view he had from his boyhood home, and  drove along the mountain roads he walked as a young man. The best part of the trip, though, was having time with his brother, sharing stories, taking pictures, and visiting the cemetery where Dad and other loved ones are remembered.
The weekend was full of memories. On Sunday, we sat in the pews of the stately church my family attended when I was a child. My father, mother, brother and I were there every week. What joy to recall my father's life, celebrate the things he did, and revisit places from long times past! How thankful I am for his life, his love, his lessons, and his legacy.
Heavenly Father, thank You for the memories of an earthly father that beautifully reflected Your love and compassion to those around him. We celebrate his life and rejoice that when he left us here, he entered Your eternal home.
By Ann Shorb
©Copyright Ann Shorb, 2010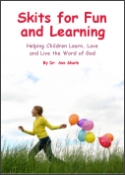 Skits for Fun and Learning
Skits for Fun and Learning is a collection of 15 puppet scripts and 5 articles on the subject of success with puppet ministries. The articles and scripts have been written by Dr. Ann Shorb and the book is available for purchase as a paperback, or as a PDF download.