Philippians 1:3
I thank my God upon every remembrance of you . . .
When the phone rang Wednesday I wasn't prepared for the news I was about to hear. "I just called to tell you that Delphine passed away last night," the voice said. My friend was nearly 80 years old so her death shouldn't have come as such a shock, but it did. She hadn't been well for years, but that never stopped her. She kept right on going and she loved life to the fullest. Her heart for the Lord and for others was always finding a way to do or say something kind. And her sense of humor kept me laughing.
I was 10 years old and she was 30 when we first met face to face. She had been assigned to be my Pioneer Girls Prayer Pal. Each girl in the group had a different lady from the church praying for her. Delphine got my name. She sent me cards, bought me gifts, sat with me at special events and most importantly she prayed for me regularly. Whoever put us together so many years ago had no idea that she was laying the foundation for a lifelong friendship.
Normally, when a girl graduated from high school and ended her time in Pioneer Girls, the relationship stopped. Ours never did. Del attended my high school graduation and later came to my wedding. When my husband and I were commissioned as missionaries, she was there. She prayed for us through language school, our term in Congo, our furloughs and our years in France. Returning to live and minister in the States only made it easier for us to keep in contact, and she kept on praying. For many years she's been a faithful Prayer Board member for us here at CCES. When I turned 50 I asked her, "Del why didn't you ever stop praying for me?" And she replied with a twinkle in her eye, "Oh, Honey, with you there was just so much to pray for!"
I felt God's call to missions the same year that I met Delphine, but I was shy and the thought of speaking in front of people scared me to death. Over the years, though, I learned from my friend. I loved to watch her interact with people. Her outgoing personality was amazing, so as I matured and faced new situations I'd ask myself, "How would Delphine handle this?" and I had an example to follow. She also showed me what it meant to trust God in the hard times, to wait patiently for His answers to prayer, and how to be faithful in well doing.
Delphine was my friend, my role model, an encourager and a prayer warrior. I will miss her terribly, yet I rejoice in knowing that she is resting now in the arms of Jesus. And if I know Del, she's probably giving Him lots of hugs and trying to figure out how she can bake Him a cake!
Lord, thank you for sweet memories and for all that I learned from a dear lady who took time to take a personal interest in a little child so many years ago.
By Ann Shorb
©Copyright Ann Shorb, 2008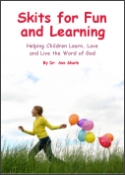 Skits for Fun and Learning
Skits for Fun and Learning is a collection of 15 puppet scripts and 5 articles on the subject of success with puppet ministries. The articles and scripts have been written by Dr. Ann Shorb and the book is available for purchase as a paperback, or as a PDF download.