I Corinthians 1:3-4
Blessed be God, even the Father of our Lord Jesus Christ, the Father of mercies, and the God of all comfort; Who comforteth us in all our tribulation, that we may be able to comfort them which are in any trouble, by the comfort wherewith we ourselves are comforted of God.
Jane Hull came to work at Christian Counseling and Educational Services last June as an administrative assistant. She brought with her a love for the Lord, many years of experience in serving Him through the local church, and the desire to serve others. Jane is an accomplished musician, a teacher and a writer. Each day she opens our counseling office and has everything ready to roll when I arrive. Imagine this scene as it unfolds one morning . . .
"I already pulled the files for the clients who are coming in today, Dr. Ann."
"Thanks, Jane. So, who are we seeing today?"
"Well, we have a new client coming in this morning, but when I got his initial information over the phone, I had trouble determining the billing address. It seems his home was under siege, and his business completely wiped out. This guy really has problems! All 10 of his children were killed in a mass tragic accident, and now his own health is deteriorating. The only place he finds relief is on top of an ash heap."
"Has he ever seen anyone for counseling before?" Ann asked.
"He told me that he was part of some group therapy session with three other guys," Jane replied, "but it wasn't really helpful to him at all."
"Did he mention what he wants to work on in our counseling sessions?" asked Ann intently.
"I think it would be tough to know where to begin, but I imagine he's wondering why God is allowing him to suffer so much loss," Jane speculated. "One thing he did say was that his wife isn't supportive, and that doesn't help things at all."
"Jane, what's this guy's name?" inquired Ann.
"Job," replied Jane.
Can you imagine yourself being a contemporary of Job? Can you imagine being his neighbor, or his employee, or even one of his good friends? You know him, his testimony, and his blessed status with God; then you watch his life fall to pieces practically overnight. In Job19:13-19, Job describes a scenario where people of all degrees of closeness to him are so appalled at his tragedies and his appearance that they actually abandon him physically and emotionally, just when he needed them most.
Even Job's closest friends assume the worst and declare that God is punishing him for having unconfessed sin in his life. God Himself powerfully states to Job's friends that His sovereign ability to use suffering can be for purposes other than punishment of sin. God harshly rebukes them for speaking incorrectly on His behalf and condemning Job. After God clears the air on this issue, then Job's healing, comfort and restoration bring a new perspective on everything! (Job 42:7-17)
I can't explain God's work in people's lives but I can be a tool in His hands to minister His grace and show His mercy to those who are suffering. I can pray for Him to lead me in these ways. What is God leading you to do today to demonstrate His grace or His mercy to a Job in your life?
By Jane Hull
©Copyright Ann Shorb, 2008
"The need for friends is imperative. It is not good for us to be friendless. We were made to give and to receive, to help and to be helped, to encourage and to be encouraged. Our nature requires a tie to faithful others. We call it friendship."
–Leroy Brownlow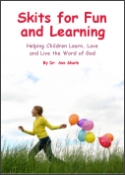 Skits for Fun and Learning
Skits for Fun and Learning is a collection of 15 puppet scripts and 5 articles on the subject of success with puppet ministries. The articles and scripts have been written by Dr. Ann Shorb and the book is available for purchase as a paperback, or as a PDF download.