LAMENTATIONS 3:21-23 (KJV)
This I recall to my mind, therefore have I hope. It is of the LORD'S mercies that we are not consumed, because His compassions fail not. They are new every morning: great is Thy faithfulness.
This month marks the fifth anniversary of "A Light for My Path!" The devotionals started in January 2006 as a way of expanding the outreach of Christian Counseling & Educational Service beyond our local area here in south central Pennsylvania. We've grown from the 22 original names on our mailing list to over 1,000 subscribers around the world. How thankful I am for the privilege of sharing thoughts with you and for the wonderful words of encouragement that have come my way. I always enjoy hearing from our readers. Some write to request prayer for specific concerns and heartaches; others share blessings the Lord sent their way.
Looking back over these last five years in my life, I see a great mixture of concerns, heartaches and blessings. Much has changed in my personal life, in my family, in the country and the world in general, but one thing remains constant–the Lord! He is as faithful today as He was five years ago. His love has not changed. His grace has not diminished. His mercy still abounds. His wisdom remains true and solid. His arms are strong. His Word is true. His ears are always open to my prayers, and His answers are certain. What security and what comfort in this crazy world we live in!
A friend of mine recently said, "We judge the future by looking at the past." He's right. And when I do that, I find comfort and strength for the days ahead because I know that my God is unchanging. No matter who you are or where you are, you can say the same thing. God is faithful and He is unchanging. His love, grace, mercy, wisdom, strength and truth are always available to those who trust Him.
Thank You, Lord, for Your faithfulness and constant love and provision during these last five years. It's a comfort to know that five years from now I'll be able to say the same thing.
You can see the collection of devotionals that have appeared in "A Light for My Path" at our devotionals page. While you're there, check out the numerous other resources we offer.
Did you know that you can have "A Light for My Path" added to your church, organization, business or family website free of charge? Once you set it up, it changes automatically each week. There's nothing else for you to do. Check the website for details on devotional syndication. It's easy!
By Ann Shorb
© 2011, Ann Shorb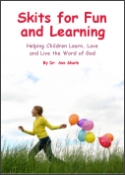 Skits for Fun and Learning
Skits for Fun and Learning is a collection of 15 puppet scripts and 5 articles on the subject of success with puppet ministries. The articles and scripts have been written by Dr. Ann Shorb and the book is available for purchase as a paperback, or as a PDF download.