EPHESIANS 5:15-16 (The Amplified Bible)
Look carefully then how you walk! Live purposefully and worthily and accurately, not as the unwise and witless, but as wise (sensible, intelligent people),
Making the very most of the time [buying up each opportunity], because the days are evil.
January 16, 2006—That's the date of the first edition of A LIGHT FOR MY PATH devotional from Christian Counseling & Educational Services. I had no idea what the response would be when I sent out those first words to 22 readers, but I made a commitment to do it for a year and that's where we started. Now here we are celebrating our eighth anniversary.
Eight years . . . can that be right? When I started calculating how long I've been doing this, I thought my math was wrong, so I wound up counting it on my fingers. And, yes, we've completed eight years of service!
How does time pass so quickly and seemingly unnoticed? One day slips routinely into another and before you know it, a week . . . a month . . . another year has gone by. I'm finding more and more that it's important to use each day for the glory of God.
What do you have to give? How can you serve the Lord and others with the talents and abilities He's given you? Whatever your gift, whatever your calling, let Him use that to encourage and build His kingdom. Don't wait until tomorrow. It will be here and gone before you know it. Do it today.
Thank you for the encouragement that you as our readers have been during these last eight years. I always enjoy your emails, and I thank you for passing on our messages to your family and friends when you think they would benefit from it.
A special "Thank you" goes to Marc, the Christian Counseling & Educational Services webmaster, who does the behind-the-scenes work and keeps things moving for me. I couldn't do it without him! In fact, sending A LIGHT FOR MY PATH was his idea to start with!
. . . And now we begin our ninth year. Praise and glory be to God!
PRAYER: Heavenly Father, let me use each day to accomplish what You have in mind for me to do. Help me make the most of my time, making good choices throughout each day. Let me be what you desire for me to be.
WORDS TO PONDER: ""You can tell what your priorities are by looking at two things—your checkbook and your calendar."
–Unknown
RELATED DEVOTIONALS:
By Ann Shorb
©Copyright Ann Shorb, 2014
Scripture quotations taken from the Amplified® Bible, Copyright © 1954, 1958, 1962, 1964, 1965, 1987 by The Lockman Foundation
Used by permission." (www.Lockman.org)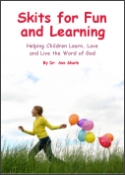 Skits for Fun and Learning
Skits for Fun and Learning is a collection of 15 puppet scripts and 5 articles on the subject of success with puppet ministries. The articles and scripts have been written by Dr. Ann Shorb and the book is available for purchase as a paperback, or as a PDF download.