PSALM 103:13 (NIV)
As a father has compassion on his children, so the Lord has compassion on those who fear him.
HAPPY FATHER'S DAY!
This being Father's Day weekend, there will be a lot of families gathering to honor Dads, young and old, and to spend time together. Many others who can't actually be together will connect by phone, texts, emails, and cards. What a joyous occasion when there's a loving Dad in a home to be honored and respected!
For a lot of families, though, there is no dad present, no one to look up to, no one to emulate. Death, separation, and divorce take a sad toll on many families. Business travel, military service and ministry obligations can also keep families from celebrating together, but if the hearts of the father and his children are connected, the miles don't really keep them apart. In contrast, physical and mental illnesses, neglect, selfishness, addictions, and other obstacles can remove a dad from his family even though his body may still be physically present in the home.
Thankfully, there is a loving Heavenly Father whose arms are open to all, regardless of your earthly family situation. And those who have accepted Christ as Savior have the privilege of developing a deep, intimate relationship with this incredible Father who always does what is best for His children.
Author Jerry Bridges in The Gospel for Real Life points out five fatherly responsibilities that God extends to each of His children:
God provides for you (Philippians 4:19).
God protects you (Matthew 10:29-31).
God encourages you (Psalm 10:17).
God comforts you (2 Corinthians 1:3-4).
God disciplines you (Hebrews 12:10).
What a comfort to know that He will never leave you, nor forsake you! His arms are always open to hold you close, and His ears are always ready to listen. He constantly sees where you are, He knows all your concerns, and He cares about every detail of your life. With all that in mind, we should celebrate Father's Day every day and seek to live for and honor Him!
By Ann Shorb
Prayer: Beloved Father, truly we are blessed beyond measure by your love.
Words to Ponder: "None of you can ever be proud enough of being the child of SUCH a Father who has not his equal in this world—so great, so good, so faultless. Try, all of you, to follow in his footsteps and don't be discouraged, for to be really in everything like him none of you, I am sure, will ever be. Try, therefore, to be like him in some points, and you will have acquired a great deal."
–Victoria, Queen of England
Read Related Devotionals:
Copyright Ann Shorb, 2013
*Scripture taken from The HOLY BIBLE, NEW INTERNATIONAL VERSION ®. Copyright © 1973, 1978, 1984 by the International Bible Society. Used by permission of Zondervan. All rights reserved.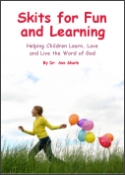 Skits for Fun and Learning
Skits for Fun and Learning is a collection of 15 puppet scripts and 5 articles on the subject of success with puppet ministries. The articles and scripts have been written by Dr. Ann Shorb and the book is available for purchase as a paperback, or as a PDF download.