HAPPY FOURTH OF JULY!
I PETER 5:8-9 (NKJV)
Be sober, be vigilant; because your adversary the devil walks about like a roaring lion, seeking whom he may devour. Resist him, steadfast in the faith, knowing that the same sufferings are experienced by your brotherhood in the world.
Celebrating freedom is always fun! Picnics and parties, laughter, good food and special times with family and friends make July 4th a wonderful holiday. But while most of us are celebrating, there are still those who stand diligently at their posts doing their duty in the fight for freedom. There is never a day when all the soldiers can take a vacation, never a night when they all slumber and sleep. There is never a time when vigilance is not required because adversaries never all go away, and opposition is never totally quiet.
So, too, in the Christian life, vigilance is always required. We must constantly be alert so that sin and destruction find no entry into our hearts, our minds, and our bodies. Peter's admonition to be ever on guard is echoed in many of Paul's letters to believers as well:
Romans 13:11-12 (NKJV)
And do this, knowing the time, that now it is high time to awake out of sleep; for now our salvation is nearer than when we first believed. The night is far spent, the day is at hand. Therefore let us cast off the works of darkness, and let us put on the armor of light.
I Corinthians 16:13 (NKJV)
Watch, stand fast in the faith, be brave, be strong.
I Thessalonians 5:4-6 (NKJV)
But you, brethren, are not in darkness, so that this Day should overtake you as a thief. You are all sons of light and sons of the day. We are not of the night nor of darkness. Therefore let us not sleep, as others do, but let us watch and be sober.
Being vigilant as a follower of Christ doesn't mean always walking around reading the Bible, or constantly quoting scripture, or bumping into things because your eyes are closed in prayer. It's a mindfulness of your need to rely on God for wisdom, strength and discernment, and trusting Him to help you fight each battle in life. It's coming to Him in prayer and spending time in His Word regularly so that you have the mind of Christ. It's using the spiritual armor Paul describes in Ephesians 6:10-18, and knowing that you have His Spirit ever by your side. You see, God provides all that you need for day-by-day, moment-by-moment victory over sin, but you need the discipline and the diligence to use His weapons. Your enemy is always on the prowl. Your vigilance is always required.
I'm thankful, Father, that I don't fight my battles alone! Your strength and Your protection are always available. So, no matter what the battle, I am confident that victory is ahead because You are my Captain.
By Ann Shorb
©Copyright Ann Shorb, 2011
Scripture taken from the New King James Version. Copyright © 1982 by Thomas Nelson, Inc.  Used by permission.  All rights reserved.
You can read any of our past Fourth of July devotionals at our website: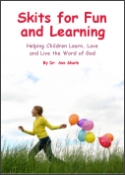 Skits for Fun and Learning
Skits for Fun and Learning is a collection of 15 puppet scripts and 5 articles on the subject of success with puppet ministries. The articles and scripts have been written by Dr. Ann Shorb and the book is available for purchase as a paperback, or as a PDF download.