JOHN 14:19-21
A little while longer and the world will see Me no more, but you will see Me. Because I live, you will live also.  At that day you will know that I am in My Father, and you in Me, and I in you.  He who has My commandments and keeps them, it is he who loves Me. And he who loves Me will be loved by My Father, and I will love him and manifest Myself to him. (NKJV)
In the week before Christ died, things happened so quickly that the disciples could hardly keep up with them!  Jesus brought Lazarus back to life and the next day rode triumphantly into the city of Jerusalem, hailed by the people as their glorious Messiah.  There were even Greeks who came seeking Him.  Christ's fame was known throughout the region and things were looking good.
Those days seemed so full of promise, yet in their quiet times together the disciples heard Christ speak repeatedly of leaving them and going to His Father.  It didn't make sense to them, but even though they didn't understand it, they still believed that this very Jesus was the Messiah, the beloved one sent from God, and they trusted Him to guide them, and they rested in the promise of His abiding love.
Those days of promise and hope soon turned to chaos and fear as Christ went from being hailed to being hated; from treated as a king to tortured as a criminal; and from glorified to crucified.  Surely they despaired as they saw His lifeless body taken from the cross and prepared for burial.  Gone was their Beloved, and gone were their hopes and dreams, their courage and confidence, their status and security.  Yet He had promised that because He lived, they would live also.  How could that be when He lay cold and still in the grave?  Unknown to the disciples, victory was just a few days away and Christ would fulfill not only all the promises He made to them, but those spoken by the prophets of old.
This same Jesus lives today and promises us victory!  Even when I don't understand and things don't make sense, I remember that He is the Beloved One sent from God. When my hopes and dreams are shattered, I can trust Him to guide me.  And when fear and confusion replaces confidence and security, I need only rest in the promise of His abiding love and victory is mine.
Glorious Savior, help me always to remember that victory is only a short distance away and find hope, peace and courage in You.
By Ann Shorb
© Copyright Ann Shorb, 2015
Scripture taken from the New King James Version. Copyright © 1982 by Thomas Nelson, Inc.  Used by permission.  All rights reserved.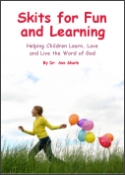 Skits for Fun and Learning
Skits for Fun and Learning is a collection of 15 puppet scripts and 5 articles on the subject of success with puppet ministries. The articles and scripts have been written by Dr. Ann Shorb and the book is available for purchase as a paperback, or as a PDF download.