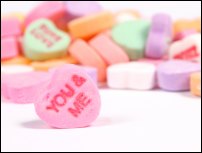 ISAIAH 43:1 (KJV)
But now, thus says the LORD, who created you, O Jacob, and He who formed you, O Israel: "Fear not, for I have redeemed you; I have called you by your name; you are mine.
On Valentine's Day isn't it fun to dig through a bag of those little candy hearts that have the words printed on them? They say cute little things like "SWEET", "CUTE" or "HUG ME". But the one that I like the best says, "YOU ARE MINE!"
Isaiah 43 gives a beautiful picture of God saying those exact words to His beloved children of Israel. Even though they had wandered away from Him and He had to discipline them, He declares, "Don't be afraid! I made you and I will take care of you. You are mine!" Then, as their loving Father, He gives them the promise of His presence, His protection, and His provision through it all.
Ephesians 1:3-14 says that as a believer in Christ, God the Father does the same thing for you. He created you, He redeemed you, and He calls you to Himself saying, "You are accepted in the Beloved"– in essence, "You are Mine!" As a loving Father cares for His children, so He cares for you day after day, week after week, year after year. He loves you! You are His!
PRAYER: Father, what a thrill to hear Your words and to know that I belong to You! Thank You for creating me, for caring for me, for calling me Yours, and for the security that brings.
WORDS TO PONDER: ". . . He hath made us accepted in the beloved."
–The Apostle Paul, Ephesians 1:6 (KJV)
RELATED DEVOTIONALS:
By Ann Shorb
HAPPY VALENTINE'S DAY!
©Copyright Ann Shorb, 2017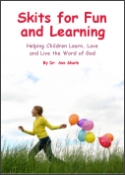 Skits for Fun and Learning
Skits for Fun and Learning is a collection of 15 puppet scripts and 5 articles on the subject of success with puppet ministries. The articles and scripts have been written by Dr. Ann Shorb and the book is available for purchase as a paperback, or as a PDF download.