PSALMS 25:4-5 (KJV)
Shew me Thy ways, O LORD; teach me Thy paths. Lead me in Thy truth and teach me: for Thou art the God of my salvation; on Thee do I wait all the day.
The start of a new year holds great mystery. What will happen? What joys will I find? What sorrow will I meet? Will I accomplish the goals I've set? How am I going to feel at the end of the year? Will we face financial hardship this year? The unknown can be very frightening, but the Psalmist gave us a way to find peace as we stand at the threshold of this new year. His prayer to God for direction indicates that he has a trusting heart and a teachable spirit.
I once had an employee who had some skill, but when she came to work with me, she didn't want me to show her anything. Was it her own insecurity? Did she just want to avoid looking bad in front of me and other workers? Did she actually believe that she knew more than she did? I truly can't answer those questions, but I do know that if she had allowed me to train her in the ways we did things in our office she might still have a job with us. She obviously didn't trust me to lead her in the ways she needed to go.
For many people, trust is a hard thing to give. If you've been hurt in the past or are being abused in the present, it's hard to trust anyone—even your Heavenly Father. Learn to see Him as your LOVING Heavenly Father. Focus on His attributes of faithfulness and His love. Read and study the scriptures that remind you of the way He tenderly cares for His children. See how He provides for the needs of those who trust Him, and watch how He comes to their aid. Read biographies of many of the great saints of God. Their lives were not so much characterized by their great skill, knowledge, or wisdom, but rather by their willingness to trust God to lead them and to provide their every need along the way. From food and clothing to emotional support and healing, men and women of the faith have found God's provision always on time and always sufficient. Let Him do that for you, my friend.
PRAYER: Lord, at the beginning of this year, I'm uncertain what lies ahead and what steps I need to take. Lead me in the way that You have for me. Guard me along that path. Provide for my necessities, and give me Your strength for each step of the way.
WORDS TO PONDER: "Never be afraid to trust an unknown future to an all-knowing God."
–Unknown
RELATED DEVOTIONAL – Where Was God
By Ann Shorb
©Copyright Ann Shorb, 2014
Scripture taken from the King James Version of The Holy Bible.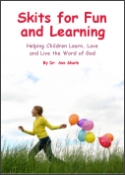 Skits for Fun and Learning
Skits for Fun and Learning is a collection of 15 puppet scripts and 5 articles on the subject of success with puppet ministries. The articles and scripts have been written by Dr. Ann Shorb and the book is available for purchase as a paperback, or as a PDF download.