Psalm 24:4-5
Show me Your ways, LORD;
Teach me Your paths.
Lead me in Your truth and teach me,
For You are the God of my salvation;
On You I wait all the day.
The start of a new year holds great mystery. What will happen? Who will I meet? Will I accomplish the goals I've set? How am I going to feel at the end of the year? Will I face financial hardship this year? The unknown can be very frightening, but the Psalmist gives us a way to find peace as we stand at the threshold of this new year. His prayer to God for direction indicates that he has a heart that is both trusting and teachable.
I once had an employee who had some skill, but when she came to work with me, she didn't want me to show her anything. Was it her own insecurity? She didn't want to look bad in front of me and other workers? Or did she actually believe that she knew more than she did? All I know is that if she had trusted me to teach her the ways we do things in our office, she might still have a job with us.
For many people, trust is a hard thing to give, especially if it involves giving up our old ways. If you've been hurt in the past or are being abused in the present, it's hard to trust anyone—even your Heavenly Father. Learn to see Him as your LOVING Heavenly Father. Focus on His attributes of faithfulness and love. Read and study the scriptures that remind you of the way He tenderly cares for His children. See how He provides for the needs of those who trust Him, and watch how He comes to their aid as they allow Him to lead them on their journey.
At the start of this new year, I encourage you to examine your heart. Are you truly trusting God for all you need in every area of life? Are you willing to learn and to do things His way? If not, ask the Holy Spirit to begin His work of strengthening your faith and softening your heart so that He can mold you into someone who is both trusting and teachable.
PRAYER: Heavenly Father, make me both trusting and teachable so that I may enjoy Your greatest blessings, and bring You great glory.
WORDS TO PONDER: "Trust the past to the mercy of God, the present to His love, and the future to His providence."
–Augustine
RELATED DEVOTIONALS:
By Ann Shorb
©Copyright, Ann Shorb, 2016
Scripture taken from the New King James Version. Copyright © 1982 by Thomas Nelson, Inc.  Used by permission.  All rights reserved.
NEW BIBLE STUDY STARTING IN JANUARY 2017!
MAKING PEACE WITH YOUR EMOTIONS: Living Life to the Fullest
Tuesdays, 9:30 to 11:00 A.M.
January 3-March 28, 2017
Held at First Baptist Church, 217 Fulton St., Hanover, PA 17331
Wouldn't life be easier without all the tumultuous feelings we experience? One moment we can be completely happy and the next find ourselves confused, lonely or devastated. Are our feelings something to be ignored, overcome, or just accepted?
In this Bible study, we will explore the stories of 12 Bible characters who expressed raw emotions. We will learn to handle negative emotions in healthy, godly ways, and gain an appreciation for the gift of emotions that God has given us.
EVERYONE WELCOME!
A donation of $10 is requested for materials and refreshments
Registration is required.
Please contact CCES: 717-630-2255.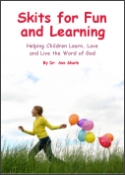 Skits for Fun and Learning
Skits for Fun and Learning is a collection of 15 puppet scripts and 5 articles on the subject of success with puppet ministries. The articles and scripts have been written by Dr. Ann Shorb and the book is available for purchase as a paperback, or as a PDF download.