JAMES 1:17
Every good and perfect gift is from above, coming down from the Father of the heavenly lights.
On this Mother's Day, I'm thinking a lot about three special mothers and the gift that each one brings to my life.  I'm a very blessed lady!
First is my own godly mother.  Although she's now with the Lord, every day I think of her and am reminded of the gift of faith that she gave me.  As far back as I can remember, her Bible stood on her night stand and she opened it every day as long as she was able.  Her faith wasn't limited to Sundays or difficult situations, it was alive and relevant to every situation she faced.
Second is my courageous mother-in-law.  She gives me the gift of hope.  Over the years I've seen her walk through the valley of physical illness one time after another with perseverance and find strength to keep going.  Her willingness to accept what God allows and not become bitter or angry is a testimony to His greatness.
Third is my own sweet daughter who gives me the gift of joy.   First as my daughter and now as the mother of my three—soon-to-be four—precious grandchildren, she delights my heart with her love for the Lord and the way she ministers to and serves her family and others.
Indeed, I am a very blessed lady!   As I look at the gifts these ladies bring to my life, I ask myself, "What gifts am I giving to others?"
Lord, thank You for the wonderful gifts that I daily received from these three special mothers.  Help me to bless others as these ladies bless me.
By Ann Shorb
© Copyright Ann Shorb, 2009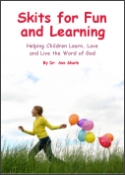 Skits for Fun and Learning
Skits for Fun and Learning is a collection of 15 puppet scripts and 5 articles on the subject of success with puppet ministries. The articles and scripts have been written by Dr. Ann Shorb and the book is available for purchase as a paperback, or as a PDF download.