HAPPY FATHER'S DAY!
PSALM 37:23 (NKJV)
The steps of a good man are ordered by the Lord,
And He delights in his way.
Good men are sometimes hard to find—and so are good women–but when you see one, you know it right away. He's just different from others in the way he lives. His strength of character makes him stand out in a crowd because it reflects his purity of heart and his goodness.
So what really are the steps of a good man? What makes him different than other men? Through the writings of the apostle Paul in Ephesians 5, the Lord clearly shows us what traits make a person good and delightful to Him.
In this letter to Christ's followers, Paul admonishes them not to walk as the unbelievers walk in corruption and deceit, but rather to walk as Christ walked, in love, and light, and truth. The word "walk" here refers to their lifestyle. He's telling them to live out their faith in Christ by following His example of being loving, and living according to the light of His Word, and being honest and genuine in all that they do.
Paul then encourages them to walk as children of light demonstrating goodness, righteousness, and truth in all that they do.
Finally, Paul tells them to walk in wisdom being filled with the Holy Spirit, having a joyful and thankful heart and a submissive spirit in all that they do.
Being a good person is not a part time job. It's not for the weak or faint of heart. It's a commitment to follow the command of Christ to, "Let your light so shine before men, that they may see your good works and glorify your Father in Heaven."
And why is it so important for good men to walk this way? Because Christ died for this! Paul reminds us that Christ gave His very life so that He might sanctify and cleanse us from an impure life, and ultimately present us, His Church, to Himself as His beautiful, pure Bride.
At this time when we honor fathers for the important role they play in the lives of their children, God calls men, and all believers, to walk in the love of Christ, the light of His Word, and the wisdom of His Spirit. This is what delights our Lord!
PRAYER: Heavenly Father, I pray for good men who seek to walk in Your way, follow Your will, and show forth the light of Your love. Give them strength, wisdom, boldness, and faith to meet the challenges they face today.
WORDS TO PONDER: "When I see you doing what only a good man does, it makes me want to bless you."
–from the movie COURAGEOUS
READ REALATED DEVOTIONALS:
–By Ann Shorb
Copyright Ann Shorb, 2015
Scripture taken from the New King James Version. Copyright © 1982 by Thomas Nelson, Inc.  Used by permission.  All rights reserved.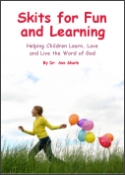 Skits for Fun and Learning
Skits for Fun and Learning is a collection of 15 puppet scripts and 5 articles on the subject of success with puppet ministries. The articles and scripts have been written by Dr. Ann Shorb and the book is available for purchase as a paperback, or as a PDF download.