I PETER 5:7 (NKJV)
. . . casting all your care upon Him, for He cares for you.
Isaiah 41:13 (NKJV)
For I, the Lord your God, will hold your right hand,
Saying to you, 'Fear not, I will help you.'
As we come to the end of 2012 and open the door for 2013, all of us wonder just what the new year will hold. Below are some words that came my way and serve as a good reminder that this will be another year full of God's grace and mercy, in spite of anything else that will come our way. Read them and be encouraged.
THE TOP TEN PREDICTIONS FOR 2013
1.    The Bible will still have the answers.
2.    Prayer will still work.
3.    The Holy Spirit will still move.
4.    God will still inhabit the praises of His people.
5.    There will still be God-anointed preaching.
6.    There will still be singing of praise.
7.    God will still pour out blessings upon His people.
8.    There will still be room at the Cross.
9.    Jesus will still love you.
10.  Jesus will still save the lost.
–Original Source Unknown
With that in mind, we can sing a song of assurance knowing that He will never leave nor forsake us. Our Savior walks beside us, holds when we're weary, and calms us when we fear. That's His promise. That's our comfort!
Thank You, Lord, for the assurance and peace that You give as we rest in You, rely on Your promises, and yield to Your will.
Check out the Hymns section of our website for songs that will comfort and encourage you.
By Ann Shorb
Copyright Ann Shorb, 2012
Scripture taken from the New King James Version. Copyright © 1982 by Thomas Nelson, Inc.  Used by permission.  All rights reserved.
Other Holiday Devotionals: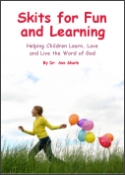 Skits for Fun and Learning
Skits for Fun and Learning is a collection of 15 puppet scripts and 5 articles on the subject of success with puppet ministries. The articles and scripts have been written by Dr. Ann Shorb and the book is available for purchase as a paperback, or as a PDF download.