Happy Father's Day!
JOHN 13:15 (NKJV)
For I have given you an example, that you should do as I have done to you.
For years I've been telling parents, "The best way to teach your children anything, is to model it for them." Children learn how to behave and how to speak by looking at the adults around them. If you want your children to be honest, then you be honest. If you want them to be kind to others, then you demonstrate kindness regularly. If you want them to exercise patience, then be an example of that before them. Modeling is the best way to teach character and virtue to your children—and there is no exception to that rule!
God the Father teaches His children how He wants us to live in the same way. He instructs us not only through His written Word, The Holy Bible, but He models for us all of the traits of goodness and righteousness that He wants to instill in us.
Ephesians 4:32 (NKJV)
And be kind to one another, tenderhearted, forgiving one another, even as God in Christ forgave you.
Leviticus 19:2 (NKJV)
You shall be holy, for I the LORD your God am holy.
I John 4:7-11 (NKJV)
Beloved, let us love one another, for love is of God; and everyone who loves is born of God and knows God. He who does not love does not know God, for God is love. In this the love of God was manifested toward us, that God has sent His only begotten Son into the world, that we might live through Him. In this is love, not that we loved God, but that He loved us and sent His Son to be the propitiation for our sins. Beloved, if God so loved us, we also ought to love one another.
Romans 2:11 (NKJV)
For there is no partiality with God.
2 Peter 3:9 (NKJV)
The Lord is not slack concerning His promise, as some count slackness, but is longsuffering toward us, not willing that any should perish but that all should come to repentance.
Everything that God expects of us as His child, He models for us. Everything! Search the scriptures and you'll see it time after time. But God not only models these qualities for us, but He gives us His indwelling Holy Spirit to actually produce them in us as we yield to Him. We can stop living in our own wisdom and strength, look to Him as the perfect example, and rely on His Spirit to make us all that He wants us to be. It's His desire and delight to be our example. Indeed He is the perfect model for His children.
Prayer: Loving Father, we are so blessed to have such a clear example of how You want us to live. Thank You for the gift of the Holy Spirit who works day by day in our lives to make us more like You.
By Ann Shorb
©Copyright Ann Shorb
Scripture taken from the New King James Version. Copyright © 1982 by Thomas Nelson, Inc.  Used by permission.  All rights reserved.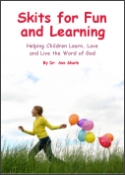 Skits for Fun and Learning
Skits for Fun and Learning is a collection of 15 puppet scripts and 5 articles on the subject of success with puppet ministries. The articles and scripts have been written by Dr. Ann Shorb and the book is available for purchase as a paperback, or as a PDF download.