GALATIANS 4:4 (NKJV)
But when the fullness of time had come, God sent forth His Son, born of a woman, born under the law, to redeem those who were under the law, that we might receive the adoption as sons.
This month our devotionals focus on the music of Christmas. My mind was still thinking about that last Friday morning after I finished writing the devotional and set out to do my errands. At lunch time, I stopped to get a bite to eat at a local fast food restaurant. The place was packed, but I found a seat near a table with three young mothers who were obviously enjoying their time together. Their children were all at the next table, giggling and playing while they ate. As I settled into my seat, I noticed that above all the noise and chatter filling the air I could hear a young voice bellowing, "Ring the bells for Jesus is born! Ring the bells for Jesus is born!"
I looked at the table full of children, and there was a little girl about three years old sitting sideways on her chair, singing her heart out. "Ring the bells for Jesus is born!" Sadly, she only knew one line of the song, but she sang that line over and over and over again. The fact that no one seemed to be listening didn't bother her. The song came from her heart and it seemed to give her great joy to share her message.
While she sang, the other children played, some nibbled on food, mothers chatted quietly, workers worked, and people passed. How very typical of the world in which we live. The most glorious message of love and mercy was bellowed from the joyful heart of a three year old, but no one seemed to notice–yet I heard her song and my heart was touched, and I know that if I heard it, some others did, too.
I guess the world hasn't changed much in 2,000 years because on that glorious night when Christ was born, the world slept. And in the days that followed, children played, some nibbled on food, mothers chatted quietly, workers worked, and people passed. No one really seemed to notice that the King of Kings and Lord of Lords had arrived on earth. Yet surely there were some who heard and whose hearts were touched and their lives were changed.
I walked to my car having learned a lesson from that little child. It isn't up to me to get people to notice me or to change their hearts; my job is just to give the words of hope and life. Those who hear and believe will be blessed. I'm only called to be faithful and keep repeating my one-line song. God will take care of the rest. Some may never realize I'm singing; some may choose not to listen, but those who hear and believe will be blessed and will know His love and mercy. My only job is to keep singing my one-line song—the Savior has come.
Heavenly Father, my heart rejoices at the wonder of Your love and the way Your beauty has touched all of creation.
By Ann Shorb
Copyright Ann Shorb, 2017
Scripture taken from the New King James Version. Copyright © 1982 by Thomas Nelson, Inc.  Used by permission.  All rights reserved.
Other Christmas Devotionals: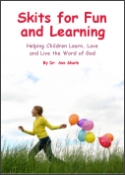 Skits for Fun and Learning
Skits for Fun and Learning is a collection of 15 puppet scripts and 5 articles on the subject of success with puppet ministries. The articles and scripts have been written by Dr. Ann Shorb and the book is available for purchase as a paperback, or as a PDF download.