NEHEMIAH 8:10 (KJV)
The joy of the Lord is my strength.
Happy New Year!
For many years, "Joy to the World" has been my favorite Christmas carol. It's lilting melody, beautiful harmony, and uplifting words, brighten my outlook and lift my spirits whenever I hear it. Although the Christmas season is behind us and we're no longer singing carols, the words of this Christmas hymn are still ringing in my heart and mind.
What a wonderful and exhilarating message this song brings—"Joy to the world, the Lord has come!" This exciting news, proclaimed by the angels on the night of Christ's birth, is the message of salvation, but it not only secures our future in Heaven with Him, it also provides relief from the stresses and difficulties we face in this life here and now. Because Christ came, we have an indwelling Holy Spirit who gives wisdom, guidance, and strength for everyday living. That's joyful news and it's a message worth singing about!
As you start another year, may you find hope, comfort, and healing from all the stressors around and within you as you recognize that the Lord has come! He is present with you. May you find great joy and strength in that reality, and may it last all year long.
PRAYER: Thank You, Heavenly Father, that the joy of Christ's coming doesn't fade when the holiday has passed.
WORDS TO PONDER: "He is always near. He knows our wants, our dangers, our feelings, and our fears. By looking to him we are enlightened and made strong out of weakness. With his wisdom for our guide, his power for our protection, his fullness for our supply, and proposing his glory as our chief end, and placing our happiness in his favour, in communion with him, and communications from Him, we shall be able to "withstand in the evil day, and having done all to stand."
—John Newton in a letter to William Wilberforce
OTHER NEW YEAR'S DEVOTIONALS:
By Ann Shorb
©Copyright Ann Shorb, 2015
Scripture taken from King James Version. Copyright © 1982 by Thomas Nelson, Inc.  Used by permission.  All rights reserved.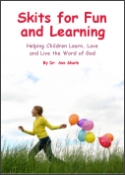 Skits for Fun and Learning
Skits for Fun and Learning is a collection of 15 puppet scripts and 5 articles on the subject of success with puppet ministries. The articles and scripts have been written by Dr. Ann Shorb and the book is available for purchase as a paperback, or as a PDF download.