LUKE 2:10-11 (KJV)
And the angel said unto them, Fear not: for, behold, I bring you good tidings of great joy, which shall be to all people.  For unto you is born this day in the city of David a Saviour, which is Christ the Lord.
One of the joys of the season is singing Christmas carols.  Recently I came across a delightful carol I had never heard, "The Hymn for Christmas Day".  The words to the song were written in the 1800's by Edward Caswall who was the son of a minister and devout in his faith.  During his lifetime he wrote the lyrics for many hymns.  Sir John Goss, a professor at the Royal Academy of music and the organist for the famed St. Paul's Cathedral, wrote the music.  Once it was published in "Christmas Carols New and Old" it became a beloved song celebrating the holy season of Christmas.
HYMN FOR CHRISTMAS DAY
See amid the winter's snow,
Born for us on earth below,
See the tender Lamb appears,
Promised from eternal years.
Chorus:
Hail, thou ever-blessed morn!
Hail, redemption's happy dawn!
Sing through all Jerusalem,
Christ is born in Bethlehem.
Lo, within a manger lies
He who built the starry skies;
Who enthroned in height sublime
Sits amid the cherubim.
Chorus
Say, ye holy shepherds, say
What your joyful news today;
Wherefore have ye left your sheep
On the lonely mountain steep?
Chorus
"As we watched at dead of night,
Lo, we saw a wondrous light;
Angels singing peace on earth
Told us of the Saviour's birth."
Chorus
Sacred Infant, all divine,
What a tender love was Thine,
Thus to come from highest bliss
Down to such a world as this.
Chorus
Teach, O teach us , Holy Child,
By Thy face so meek and mild,
Teach us to resemble Thee,
In Thy sweet humility!
Chorus
Happy Birthday, Sweet Jesus!  Please receive our praise and worship as our love gift to You now.
May your Christmas be a joyous celebration of the living Lord Jesus.  May His love, joy and peace fill your heart and your home!
Merry Christmas!
By Ann Shorb
©Copyright 2010, Ann Shorb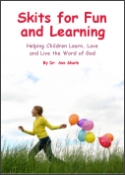 Skits for Fun and Learning
Skits for Fun and Learning is a collection of 15 puppet scripts and 5 articles on the subject of success with puppet ministries. The articles and scripts have been written by Dr. Ann Shorb and the book is available for purchase as a paperback, or as a PDF download.