ROMANS 6:23 (NKJV)
. . . the gift of God is eternal life in Jesus Christ our Lord.
Black Friday and Cyber Monday have come and gone and the Christmas shopping frenzy has officially begun! Finding bargains and giving gifts will be a high priority for the average American family for the next three weeks. Sadly, few will stop to truly focus on the meaning of this ancient celebration which began at the birth of the Lord Jesus Christ—God's gift to the world.
Manger scenes often depict Mary, Joseph, and the newborn Christ child surrounded by shepherds, and wise men bearing gifts. A careful reading of the story from the Word of God reveals, however, that the wise men did not actually arrive until sometime later. Scholars estimate that it was between 18 and 24 months from the time these astrologers saw the star appear in the sky on the night Christ was born until they arrived at the home where Mary and Joseph and the baby lived in Nazareth of Galilee.
And the star which they had seen in the East went before them, till it came and stood over where the young Child was. When they saw the star, they rejoiced with exceeding great joy. And when they had come into the house, they saw the young Child with Mary His mother, and fell down and worshiped Him. And when they had opened their treasures, they presented gifts to Him: gold, frankincense, and myrrh. (Matthew 2:9-11)
All those months the wise men traveled following the star seeking a newborn king. All those months they carried their gifts to honor and welcome Him.
There was no hurry, no rush, no frenzy. With calmness, humility, and intentionality, their gifts were presented to the King of the Jews, the one for whom the world had been waiting.
Through the month of December our devotionals will focus on the Gifts of Christmas. I hope you'll find these little writings to be a blessing and that they will remind you of the true meaning of giving at Christmas—and always.
PRAYER: Lord, at the beginning of this Christmas season, help us turn our focus to the true meaning of giving, and to the wonderful Gift You gave to us.
WORDS TO PONDER: "We never outgrow our love for presents."
–Alexander Stoddard
CHRISTMAS DEVOTIONALS AND ARTICLES:
By Ann Shorb
©Copyright Ann Shorb, 2014
Scripture taken from the New King James Version. Copyright © 1982 by Thomas Nelson, Inc.  Used by permission.  All rights reserved.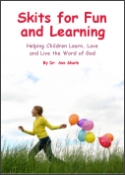 Skits for Fun and Learning
Skits for Fun and Learning is a collection of 15 puppet scripts and 5 articles on the subject of success with puppet ministries. The articles and scripts have been written by Dr. Ann Shorb and the book is available for purchase as a paperback, or as a PDF download.