Romans 12:1-2
I beseech you therefore, brethren, by the mercies of God, that ye present your bodies a living sacrifice, holy, acceptable unto God, which is your reasonable service. And be not conformed to this world: but be ye transformed by the renewing of your mind, that ye may prove what is that good, and acceptable, and perfect, will of God.
Once you have accepted God's gift of salvation your life will be different. Thoughts, desires and actions begin to change and the process of becoming more like Christ is set in motion. As you develop that sweet intimate relationship with your loving Heavenly Father, this becomes your gift to Him! There are things you can do each day to promote spiritual growth in your life and draw closer to Him, but remember growth is a process!
Grow in your knowledge and understanding of God. Read His Word, The Holy Bible, daily to learn more of Him and to understand what He desires for you. Find a good Bible study group and dig deep into the scriptures to feed your mind and soul.
Invest time daily in prayer with God. Talk to Him as your Friend who longs to be by your side and walk with you through every difficult circumstance. Confess your sins to Him and ask Him to help you in your struggles. Seek His direction in daily decisions. Share your joys and victories with Him as well. Praise and worship Him for His greatness.
Focus on the positive instead of the negative. Make it a point to replace wrong thoughts with something good and positive. Guard your thoughts carefully and consistently. Learn Bible verses, hymns and worship music to think on instead of harboring thoughts that pull you down.
Tell others of your faith, joy and hope. Let them hear and see how Christ has changed your life and brought you joy since you accepted God's gift of salvation.
Settle in at a strong Bible-believing church where you are motivated to study and grow in your faith. Find areas where you can serve God by serving others, and develop healthy friendships among fellow believers.
Giving and receiving gifts is a wonderful part of Christmas. Enjoy it! But never lose sight of the greatest Gift of all, the Lord Jesus Christ, and His love for you.
Loving Father, this year may I be faithful in sharing the gift of Your love and salvation with others. Thank you that The Gift of Christmas doesn't fade when the holiday has passed.
By Ann Shorb
©Copyright Ann Shorb, 2006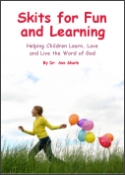 Skits for Fun and Learning
Skits for Fun and Learning is a collection of 15 puppet scripts and 5 articles on the subject of success with puppet ministries. The articles and scripts have been written by Dr. Ann Shorb and the book is available for purchase as a paperback, or as a PDF download.