MATTHEW 2:11 (NKJV)
And when they had come into the house, they saw the young Child with Mary His mother, and fell down and worshiped Him. And when they had opened their treasures, they presented gifts to Him: gold, frankincense, and myrrh.
For most of us, Christmas just wouldn't be Christmas without the giving and receiving of gifts. Isn't that what Christmas is all about? It's the celebration of God giving the gift of His Son, the Lord Jesus Christ, to be the Savior for a lost and dying world.
As part of that story, the Bible tells us there were wise men in the East, probably Persia (now called Iran), who recognized the star that appeared in the sky at that time as God's sign that the Jewish Messiah had come. To find and honor Him, these men probably traveled more than 800 miles, following that star.
Traditionally we think three wise men made that long journey because the Bible mentions three gifts–gold, frankincense, and myrrh–that were brought to the young King. These were not ordinary baby gifts!
Throughout the Bible, gold represents divinity, and it is thought that they offered it to Christ acknowledging Him as God in human form.
Frankincense, a highly fragrant resin burned as a sweet smelling offering in Jewish worship to God, symbolized holiness and righteousness. It pointed to Christ offering Himself to God as a pure and perfect sacrifice for our sins.
Their gift of myrrh was actually a spice, sometimes mixed with wine to form a bitter potion for those who were suffering. Myrrh was also used in the embalming process in those days. Both of these point to the suffering and death Christ experienced while here on earth.
These three gifts, generously and humbly laid before Him in worship, each pointed to Christ as the King of kings, and Savior of the world. My friend, do you acknowledge Him as your King and your Savior? This Christmas make Him your focus. O come and adore Him!
PRAYER: Precious Lord, we bow our hearts before You in worship and exaltation for truly You are the Gift of God, our Savior and our King.
WORDS TO PONDER:
"O come, let us adore Him,
O come, let us adore Him.
O come, let us adore Him,
Christ, the Lord."
–Latin Hymn of the 18th century
Translated by Frederick Oakeley, 1802-1880
CHRISTMAS DEVOTIONALS AND ARTICLES:
By Ann Shorb
©Copyright Ann Shorb, 2014
Scripture taken from the New King James Version. Copyright © 1982 by Thomas Nelson, Inc.  Used by permission.  All rights reserved.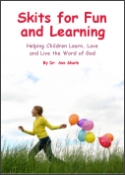 Skits for Fun and Learning
Skits for Fun and Learning is a collection of 15 puppet scripts and 5 articles on the subject of success with puppet ministries. The articles and scripts have been written by Dr. Ann Shorb and the book is available for purchase as a paperback, or as a PDF download.