Romans 6:23
The gift of God is eternal life through Jesus Christ our Lord.
II Corinthians 9:15
Thanks be unto God for His unspeakable gift.
It's almost Christmas! And no doubt you've spent a lot of time selecting exactly the right presents for those you love. God, your Creator, knows and loves you so much that He has given you exactly what you need—a Savior. This is the ultimate gift of all time! To accept this gift you must . . .
Give up trying to make your own way to Heaven. No one is good enough to do that. "For all have sinned and come short of the glory of God." Romans 3:23
Instead, look to Christ to save you. "He hath made Him (Jesus) who knew no sin to be sin for us . . . that we might be made the righteousness of God in Him." 2 Corinthians 5:21
Find forgiveness and freedom by accepting His death on the cross as payment for your sin."But God commendeth (showed) His love toward us, in that, while we were yet sinners, Christ died for us." Romans 5:8
Take this gift God offers you. It's free! "For the wages of sin is death (eternal separation from God); but the gift of God is eternal life through Jesus Christ our Lord." Romans 6:23
Accepting God's gift of salvation means realizing that you can't save yourself, and putting your faith and trust in the Lord Jesus Christ alone to forgive your sin and remove the barrier that separates you from God now and eternally. If you've never done that, you can talk to God in prayer and tell Him that you want to accept this free gift and become His child. If you would like to know more about accepting Christ as your Savior, please go towww.ccesonline.com/4thingsgodwantsyoutoknow.htm.
Loving Father, this year may I be faithful in sharing the gift of Your love and salvation with others. Thank you that The Gift of Christmas doesn't fade when the holiday has passed.
By Ann Shorb
©Copyright Ann Shorb, 2006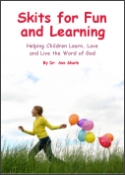 Skits for Fun and Learning
Skits for Fun and Learning is a collection of 15 puppet scripts and 5 articles on the subject of success with puppet ministries. The articles and scripts have been written by Dr. Ann Shorb and the book is available for purchase as a paperback, or as a PDF download.