II Chronicles 7:14
If my people, which are called by my name, shall humble themselves, and pray, and seek my face, and turn from their wicked ways; then will I hear from heaven, and will forgive their sin, and will heal their land.
The Fourth of July holiday provides us with a wonderful opportunity to pause and think about our tremendous American heritage, and the Christian values that formed the foundation for our freedom.
Remember learning about the courage and faith of the pilgrims? Can you recall the stories your teachers told you about George Washington and his determination in the fight for freedom? What about John Hancock, John Adams, and Thomas Jefferson? Each one has a place in our history, and what an inspiration to know that their courage and determination were based on their deep faith in an almighty God who directed their steps and honored their desire to freely worship Him.
But my heart is burdened these days because the history books I learned from have been done away with and new editions have emerged that leave out the facts about our Christian heritage. Just last fall, a sixth grader told me that she knew the pilgrims were really not very good people and that the things they did were wrong. What happened to celebrating their victory of surviving that first harsh winter and thanking God for His faithfulness?
We've been blessed in the United States to enjoy religious freedom since the beginning of our nation; however, we're going to have to fight to maintain that precious gift. I hope you'll join me in making your voice heard in one way or another. You can check People for the American Way at pfaw.org for a listing of various Christian organizations such as The American Family Association, Christian Coalition, Concerned Women for America, Focus on the Family, and others that provided news and information, and make a way for you to share your concerns with our political leaders. See which groups best suit your interests and get involved.
In addition, let's be faithful in praying for our president and other political leaders. Pray, too, for the upcoming presidential elections in 2008.
Finally, let's make sure that our hearts are right before God and that we keep our personal focus on Him and commit ourselves to holy living.
Although most of us will never stand in the political arena, every one of us can, and must, do something in this fight for continued freedom! Let's be faithful in upholding the traditional values and privileges which our forefathers gave us.
Lord, thank You for those who fought and died so that we might enjoy the freedom of living openly knowing and sharing Your grace each day. Help us now to do our part in defending our freedom to worship and live for You freely.
By Ann Shorb
Copyright 2007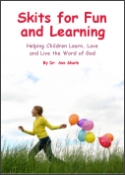 Skits for Fun and Learning
Skits for Fun and Learning is a collection of 15 puppet scripts and 5 articles on the subject of success with puppet ministries. The articles and scripts have been written by Dr. Ann Shorb and the book is available for purchase as a paperback, or as a PDF download.