PSALM 92:1-2 (NKJV)
It is good to give thanks to the LORD,
And to sing praises to Your name, O Most High;
To declare Your lovingkindness in the morning,
And Your faithfulness every night
Ugh!  I hate this job! I thought as I worked my way through the task of cleaning out the refrigerator. It takes so long and it's no fun. On and on went my negative ramblings until  little voice inside me said, Just be thankful that you have a refrigerator and food to put in it.
Immediately my mind flew back to the time we lived in Africa. Oh, we had a refrigerator, but it was small, and we only had the electricity to run it for several hours a day. We learned not to open it any more than we had to and to use our resources wisely. We were thankful for the help it provided, and for the food we had to put inside of it.
As I remembered those days, my attitude changed and cleaning out my refrigerator didn't seem like such a bad thing anymore. I was reminded again that focusing on my blessings relieves a lot of stress and anxiety in anything I do. When I add up my blessings at any given moment of life, my thoughts just naturally turn to praise and thanksgiving for God's loving kindness and His faithfulness.
Today I remember that Thanksgiving is not just a day to celebrate at the end of November; it's an attitude. It's a constant awareness of His goodness that results in counting my blessings morning, noon and night every day. A good rule to live daily by is to stop complaining and start calculating!
O Lord Most High, how grateful I am that You are patient with me and that You don't stop blessing me even when I fail to express my gratitude for the blessings You shower upon me day by day, moment by moment.
By Ann Shorb
©Copyright Ann Shorb, 2009
Count Your Blessings
When upon life's billows you are tempest tossed,
When you are discouraged, thinking all is lost,
Count your many blessings, name them one by one,
And it will surprise you what the Lord hath done.
Chorus:
Count your blessings, name them one by one,
Count your blessings, see what God hath done!
Count your blessings, name them one by one,
And it will surprise you what the Lord hath done.
Are you ever burdened with a load of care?
Does the cross seem heavy you are called to bear?
Count your many blessings, every doubt will fly,
And you will keep singing as the days go by.
(Chorus)
When you look at others with their lands and gold,
Think that Christ has promised you His wealth untold;
Count your many blessings. Wealth can never buy
Your reward in heaven, nor your home on high.
(Chorus)
So, amid the conflict whether great or small,
Do not be disheartened, God is over all;
Count your many blessings, angels will attend,
Help and comfort give you to your journey's end.
(Chorus)
–Johnson Oatman, Jr., 1897
Scripture taken from the New King James Version. Copyright © 1982 by Thomas Nelson, Inc.  Used by permission.  All rights reserved.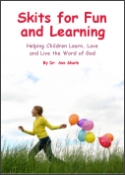 Skits for Fun and Learning
Skits for Fun and Learning is a collection of 15 puppet scripts and 5 articles on the subject of success with puppet ministries. The articles and scripts have been written by Dr. Ann Shorb and the book is available for purchase as a paperback, or as a PDF download.