COLOSSIANS 2:6-7 (NET)
Therefore, just as you received Christ Jesus as Lord, continue to live your lives in him, rooted and built up in him and firm in your faith just as you were taught, and overflowing with thankfulness.
In Paul's letter to the Colossians, he reminds believers that their faith is to be deeply rooted in Christ and characterized by an abundance of thanksgiving. Some of the newer versions of the Bible use the words "overflowing with thankfulness" to describe that abundance. What a wonderful concept and image!
"A grateful heart is a happy heart." I believe that because every time I stop and find the good in a situation and be thankful, it reduces my stress and brings me joy in some way or another. Truly practicing gratitude is a great way to improve your quality of life because it has such tremendous health benefits.
I'll admit that sometimes it's tough to find something to be thankful for. Trials and tribulations get heavy and feelings of darkness may loom over an entire situation, but asking God to help you see His hand of blessing in every circumstance will give you a new perspective. There is always something for which we can be thankful. Always! We just have to make an effort to look for it.
If you're having trouble finding something positive in your difficult situation, go back to the promises of God. As you review them, you'll find that hidden gem for which you can thank the Lord. If nothing else, the very fact that the Lord has promised, "I will never leave you, nor forsake you" is enough to produce deep gratitude in any circumstance.
They say it takes 21 days to form a habit whether it's a good habit or a bad one. Either way, it takes intentional effort on our part to make it happen. If you really want to make gratitude a habit, set an alarm to go off every hour. When it sounds, stop right where you are and look around you. Ask yourself what blessings you see in that moment. Then, lift your heart in thanks to God. If you're in a place where it's possible, give your praise out loud. It's great to not only think it, but to hear your own voice saying it.
A heart that is overflowing with thankfulness is a beautiful thing, and a tremendous witness to the world around you.
PRAYER: Heavenly Father, sometimes it's easier than others to find things for which I can be thankful. Help me to get into such a habit of looking for the good that it becomes a natural response no matter what is going on in my life. I want my heart to overflow with thankfulness and remind those around me of Your goodness.
WORDS TO PONDER: "If you never learn the language of gratitude, you will never be on speaking terms with happiness."
–Unknown
By Ann Shorb
©Copyright Ann Shorb, 2013
Scripture quotations are from The Holy Bible, English Standard Version, copyright (c) 2001 by Crossway Bibles, a division of Good News Publishers. Used by permission. All rights reserved.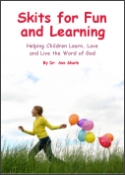 Skits for Fun and Learning
Skits for Fun and Learning is a collection of 15 puppet scripts and 5 articles on the subject of success with puppet ministries. The articles and scripts have been written by Dr. Ann Shorb and the book is available for purchase as a paperback, or as a PDF download.