PSALM 95:2 (NKJV)
Let us come before His presence with thanksgiving;
Let us shout joyfully to Him with psalms.
I caught myself smiling when I heard the strains of a Christmas carol on the radio this morning.  For me, it was the first carol of the season, and it brought with it feelings of joy and excitement.
Just a few days ago we celebrated Thanksgiving, reflecting on the blessings and bounty God freely gives to us here in our country.  The passing of that holiday always leads right into the joyous Christmas season.  No one planned it that way, but what a natural progression this is because taking time to be thankful always leads to rejoicing and gladness.  We see this throughout the scriptures:
Psalm 100:4 (NKJV)
Enter into His gates with thanksgiving,
And into His courts with praise.
be thankful to Him, and bless His name.
Psalm 97:12 (NKJV)
Rejoice in the LORD, you righteous,
And give thanks at the remembrance of His holy name.
Philippians 4:4-6 (NKJV)
Rejoice in the Lord always. Again I will say, rejoice!
Let your gentleness be known to all men. The Lord is at hand.
Be anxious for nothing, but in everything by prayer and supplication, with thanksgiving, let your requests be made known to God; and the peace of God, which surpasses all understanding, will guard your hearts and minds through Christ Jesus.
Thankfulness and rejoicing just go hand in hand!  You can't have one without the other.  They're like Siamese twins that cannot be separated–and the more thankful you are, the greater the rejoicing.
Precious Father, let us always be thankful, and therefore always rejoicing, for the bountiful blessings you bestow upon us, particularly the precious gift of Your Son, the Lord Jesus Christ.
By Ann Shorb
©Copyright 2010, Ann Shorb
Scripture taken from the New King James Version. Copyright © 1982 by Thomas Nelson, Inc.  Used by permission.  All rights reserved.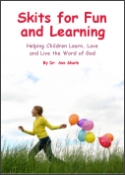 Skits for Fun and Learning
Skits for Fun and Learning is a collection of 15 puppet scripts and 5 articles on the subject of success with puppet ministries. The articles and scripts have been written by Dr. Ann Shorb and the book is available for purchase as a paperback, or as a PDF download.