HAPPY THANKSGIVING!
ROMANS 6:23 (KJV)
For the wages of sin is death; but the gift of God is eternal life through Jesus Christ our Lord.
EPHESIANS 2:8-9 (KJV)
For by grace are ye saved through faith; and that not of yourselves: it is the gift of God: Not of works, lest any man should boast.
Seth and Bessie Sykes were a team! After Seth gave up his job as a tram conductor in 1929, he and Bessie left the comfort of their home in Springburn, Glasgow to begin a new adventure as traveling evangelists. Over the years, they became well-known for their unique presentations as they carried the message of salvation throughout the United Kingdom visiting mission churches, preaching the Gospel, and holding revival meetings that often lasted two weeks. Bessie played the portable organ that traveled with them, Seth preached, and they used a lantern projector to show slides as they told their Bible stories. They shared their message with all who would listen.
Together Seth and Bessie composed many of the songs used in their meetings, and they published several songbooks. They blessed us with many of the choruses that were popular in the middle 1900's and after. Songs like "Wide, Wide as the Ocean," and "My Heart is Full and Running Over" were well-liked not only in Great Britain, but also in the United States. Their best-known song, "Thank You, Lord," copyrighted in 1940, is still being sung around the world today.
I remember singing "Thank You, Lord" in Sunday School and church as a youngster. You've probably sung that little song, too, haven't you? For years, though, I never knew it had any verses. We sang only the chorus. How appropriate at this Thanksgiving season to take a couple of minutes to read through all of the words they wrote in that little song.
THANK YOU, LORD
Some thank the Lord for friends and home
For mercies sure and sweet,
But I would praise Him for his grace
In prayer I would repeat
Refrain:
Thank you, Lord, for saving my soul.
Thank you, Lord, for making me whole.
Thank you, Lord, for giving to me
Thy great salvation so rich and free.
Some thank Him for the flow'rs that grow,
Some for the stars that shine.
My heart is filled with joy and praise
Because I know He's mine.
Refrain
I trust in Him from day to day.
I prove His saving grace.
I'll sing this song of praise to Him
Until I see His face.
Refrain
Their words tell us why they were so passionate about sharing the story of salvation with people everywhere they went. They considered their salvation a great blessing. To Seth and Bessie, there was no greater gift.
PRAYER: Truly, Lord, we are grateful for the great gift of salvation that You so freely give to us when we come to You in faith. Stir our hearts that we, too, may be faithful messengers giving out the Gospel to all who will listen.
WORDS TO PONDER:
"So once in every year we throng
Upon a day apart,
To praise the Lord with feast and song
In thankfulness of heart."
–Arthur Guiterman, The First Thanksgiving
RELATED DEVOTIONALS:
By Ann Shorb
©Copyright Ann Shorb, 2013
Scripture taken from the King James Version of The Holy Bible.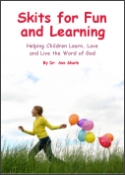 Skits for Fun and Learning
Skits for Fun and Learning is a collection of 15 puppet scripts and 5 articles on the subject of success with puppet ministries. The articles and scripts have been written by Dr. Ann Shorb and the book is available for purchase as a paperback, or as a PDF download.