ROMANS 5:6-8
For when we were still without strength, in due time Christ died for the ungodly. For scarcely for a righteous man will one die; yet perhaps for a good man someone would even dare to die. But God demonstrates His own love toward us, in that while we were still sinners, Christ died for us.
This is Holy Week and around the world people are telling and retelling the story of Jesus. The story of Jesus is a story of love. It's the story of a loving Father who willingly sends His Son from Heaven to live among men on earth with all its pain and suffering. It's the story of a Son, the Lord Jesus Christ, who obediently gives His own life to be the sacrifice to pay for the sins of the world. It's the story of a love relationship between a holy God and those who accept His great gift of salvation.
After years of being misunderstood, misquoted, and mistaken for a fraud, in a week's time Christ was hailed as King of the Jews and recognized as Messiah, then betrayed by one of His own followers. He was tried by Roman courts, brutally beaten, and finally crucified by the very people He came to save. Why would He subject Himself to all of that when He had the power to escape? Why would He suffer and even die for such ungrateful people? The Bible tells us that He did it because of His great love for us.
Truly when I stop to think about it, the most amazing part of the Easter story is that He did it all out of love. Christ didn't have to come to earth. He didn't have to subject Himself to living in poverty, nor being bound by the limitations of time and space. He didn't have to stick around and endure the slander and hatred of jealous men, nor the excruciating death they put Him through, but He did—and He did it out of love.
May your heart be humbled and your spirit ever mindful that the most amazing part of the Easter story is the sacrificial love of Christ. May this truth so touch your heart that you repeat the words of Fanny Crosby, "Let me weep while you whisper, Love paid the ransom for me."
Read Fanny Crosby's hymn "Tell Me The Story of Jesus."
Beloved Jesus, keep my focus on You and You alone throughout this Easter season.
By Ann Shorb
©Copyright Ann Shorb, 2011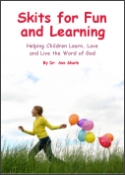 Skits for Fun and Learning
Skits for Fun and Learning is a collection of 15 puppet scripts and 5 articles on the subject of success with puppet ministries. The articles and scripts have been written by Dr. Ann Shorb and the book is available for purchase as a paperback, or as a PDF download.