HEBREWS 13:15 
Therefore by Him let us continually offer the sacrifice of praise to God, that is, the fruit of our lips, giving thanks to His name. (NKJV)
HAPPY THANKSGIVING!
Thanksgiving is nearly here and people are already rushing head first into the busyness of the holiday season. Stores are packed with shoppers, travelers are charting their courses, and hostesses have plans for festive gatherings swirling in their minds. With special programs, and parties, and presents to purchase and wrap, these next four weeks will be a whirlwind of activity. Wouldn't it be nice if we could stop rushing and really take time for rejoicing as Christmas approaches?
Charles Swindoll, author and Bible teacher, says, "There is a practical reason Thanksgiving precedes Christmas. Since there are four weeks in between, our sustained thankfulness could be tied into the four seasons of the year. Instead of fretting about how many shopping days are left, each week reflect on the many wonderful memories a different season of the year brought your way. Thoughts of gratitude will chase away those goblins who would otherwise steal your joy. Remember, this is a time for rejoicing." (Day by Day with Charles Swindoll)
Swindoll suggests that during each seven-day period between Thanksgiving and Christmas, we let our thoughts drift back to a different season that year, starting with spring the first week, then summer, fall, and winter. If you've been keeping a gratitude journal, reading through those pages will easily bring to mind the wonderful things God did in your life during those days. As each memory comes, let gratitude fill your heart, and breathe a prayer of thankfulness to your loving Heavenly Father.
Don't leave your spirit of gratitude and rejoicing at the Thanksgiving dinner table. Let it carry you through the next four weeks and see what a difference it makes in your head, your heart, and your home this holiday season.
PRAYER: Loving Father, throughout this season, turn my mind from worldly celebrations to Your bountiful blessings.
WORDS TO PONDER: "A sustained spirit of gratitude makes the weeks before Christmas a celebration rather than a marathon."
–Charles Swindoll, Day by Day with Charles Swindoll
"Praise God, from whom all blessings flow;
Praise Him all creatures here below;
Praise Him above, ye heavenly host;
Praise Father, Son, and Holy Ghost!"
–Thomas Ken, (1637-1711), Praise God From Whom All Blessings Flow
RELATED DEVOTIONALS: 
By Ann Shorb
Copyright Ann Shorb, 2014
Scripture taken from the New King James Version. Copyright © 1982 by Thomas Nelson, Inc.  Used by permission.  All rights reserved.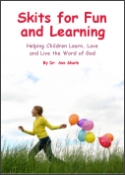 Skits for Fun and Learning
Skits for Fun and Learning is a collection of 15 puppet scripts and 5 articles on the subject of success with puppet ministries. The articles and scripts have been written by Dr. Ann Shorb and the book is available for purchase as a paperback, or as a PDF download.