HAPPY NEW YEAR!
Colossians 3:16
Let the Word of Christ dwell in you richly in all wisdom; teaching and admonishing one another in psalms and hymns and spiritual songs, singing with grace in your hearts to the Lord.
At the start of this brand new year, here are some words from Frances Ridley Havergal (1836-1879) to encourage and cheer you on. Although they were penned more that 120 years ago, their truth remains unchanged.
STANDING AT THE PORTAL
"Standing at the portal
Of the opening year,
Words of comfort meet us,
Hushing every fear;
Spoken through the silence
By our Father's voice,
Tender, strong, and faithful,
Making us rejoice.
REFRAIN:
"Onward, then, and fear not,
Children of the day;
For His Word shall never,
Never pass away.
"For the year before us,
O what rich supplies!
For the poor and needy
Living streams shall rise;
For the sad and sinful
Shall His grace abound;
For the faint and feeble
Perfect strength be found.
Refrain
"He will never fail us,
He will not forsake;
His eternal covenant
He will never break;
Resting on His promise,
What have we to fear?
God is all-sufficient
For the coming year."
May your new year bring you much joy, great peace, and a deeper walk with the Lord Jesus Christ.
PRAYER: As we stand at the portal of 2016, Lord, we thank You that there are no uncertainties with You, and that Your Word is sure and unchanging. Thank You for being the Rock on which we can stand in all kinds of circumstances.
WORDS TO PONDER: "Scripture is a treasure trove of God's thoughts. Spend time there every day—starting today—mining it for new truths and insights."
–Rev. Charles Stanley, Pastor and Author
By Ann Shorb
©Copyright, Ann Shorb, 2016
Scripture taken from the New King James Version. Copyright © 1982 by Thomas Nelson, Inc.  Used by permission.  All rights reserved.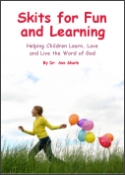 Skits for Fun and Learning
Skits for Fun and Learning is a collection of 15 puppet scripts and 5 articles on the subject of success with puppet ministries. The articles and scripts have been written by Dr. Ann Shorb and the book is available for purchase as a paperback, or as a PDF download.