PSALM 57:7-9
My heart is steadfast, O God, my heart is steadfast; I will sing and give praise.  Awake, my glory!  Awake, lute and harp!  I will awaken the dawn.  I will praise You, O lord, among the peoples; I will sing to You among the nations. (NKJV)
St. Patrick's Day is right around the corner, but I doubt that most people really know much about the man the day was named for.  Born into a Christian family around 385 A.D. in what is now Great Britain, Patrick grew up hearing God's Word preached by his father.  However, when he was just sixteen, he was captured by Irish warriors who invaded his local village and dragged him to Ireland and sold him as a slave.  There Patrick lived poor and lonely as a simple herdsman.
In a time and place where most people worshiped pagan gods, Patrick's faith in the true and living God grew and grew.  The words of His father who preached of salvation by faith in Christ alone became a living reality in this young man's life.  He passed those long, lonely days in the fields talking with the Lord and deepening that relationship.  In his heart he knew that if he ever gained his freedom, he would commit his life to travel throughout that land sharing Christ with the Irish people.
And that's just what he did.  At the age of 22 he escaped and returned to his homeland.  There he studied 12 years to be a priest so that he could return to Ireland and share the good news of salvation with a people steeped in spiritual darkness.  Many responded to Patrick's message of love and hope, but each paid a price for his conversion to this new way of believing that pulled him away from the druids and their false doctrine.
Patrick's life was constantly in danger and he battled the forces of evil daily.  In his journal he wrote, "I daily expect to be murdered or robbed or reduced to slavery," but his commitment to his calling and his God overshadowed all dangers for more than 30 years.  In those years he led thousands to a saving faith in Christ and established hundreds of churches and schools.  Patrick lived and died by one primary principle:
"I cannot hide the gift of God which He gave me in the land of my captivity.  There I sought Him and there I found Him."
Heavenly Father, this man's example of faith and commitment stirs my own.  Grant me Your wisdom, strength and focus to live each day serving you faithfully, unreservedly.
By Ann Shorb
© Copyright Ann Shorb, 2009
Scripture taken from the New King James Version. Copyright © 1982 by Thomas Nelson, Inc.  Used by permission.  All rights reserved.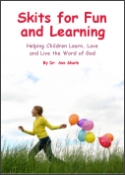 Skits for Fun and Learning
Skits for Fun and Learning is a collection of 15 puppet scripts and 5 articles on the subject of success with puppet ministries. The articles and scripts have been written by Dr. Ann Shorb and the book is available for purchase as a paperback, or as a PDF download.