PSALM 100:3-4 (KJV)
Know ye that the Lord he is God: it is he that hath made us, and not we ourselves; we are his people, and the sheep of his pasture.  Enter into his gates with thanksgiving, and into his courts with praise: be thankful unto him, and bless his name.
The deacon stood at the pulpit, humbly bowed his head, and led our congregation in prayer. He thanked God for safety and protection, for our families, our church, our country, and for abundant blessings in our homes and many other areas of our lives. Finally he said, "Lord I'm just so thankful that we have so much to be thankful for!" And couldn't we all echo his words? We have so much to be thankful for!
Here in America, we have so many material blessings, so much freedom compared to many other countries, such great natural beauty, and so many resources. And if this weren't enough, God offers to us all great spiritual blessings as well. He freely and graciously offers us salvation from our sins, past, present, and future, through faith in the Lord Jesus Christ. He gives those of us who believe in Him His ever-abiding Holy Spirit to teach, rebuke, restore, and guide us. His written Word directs, comforts, and instructs us. And He promises us an eternal home in Heaven where He dwells in all His splendor. How great are our riches!
Of course there are times when things are tough and circumstances loom darkly over us. Depression, unemployment, death of a loved one, physical illness, divorce, and disappointment can overshadow the brightness of our blessings, if we let it. When it's hard to find anything to be thankful for, you can always turn to the promises of God. Get out your Bible and start reading. Find those verses that bring hope to your weary heart and read them out loud. Write them down on cards to keep in places where you'll see them often. Meditate on His words and let them revive your dry, thirsty soul. God's promises can be a constant source of hope, comfort, and peace.
No matter what time of year, what day of the week, or what hour of the day, we have so much for which to be thankful!
PRAYER: The abundance of Your blessings is totally beyond our comprehension, Lord! We praise and thank You for Your graciousness and kindness toward us. Thank You especially for Your promises that can never be exhausted, and never expire!
WORDS TO PONDER: "Gratitude is a quality similar to electricity. It must be produced and discharged and used up in order to exist at all."
–William Faulkner (1897-1962), American writer and Nobel laureate
RELATED DEVOTIONALS:
By Ann Shorb
©Copyright Ann Shorb, 2013
Scripture taken from the King James Version of The Holy Bible.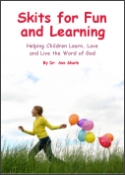 Skits for Fun and Learning
Skits for Fun and Learning is a collection of 15 puppet scripts and 5 articles on the subject of success with puppet ministries. The articles and scripts have been written by Dr. Ann Shorb and the book is available for purchase as a paperback, or as a PDF download.