LUKE 2:10-11, 15-18
And the angel said unto them, Fear not: for, behold, I bring you good tidings of great joy, which shall be to all people.  For unto you is born this day in the city of David a Saviour, which is Christ the Lord . . . And it came to pass, as the angels were gone away from them into heaven, the shepherds said one to another, Let us now go even unto Bethlehem, and see this thing which is come to pass, which the Lord hath made known unto us.  And they came with haste, and found Mary, and Joseph, and the babe lying in a manger.  And when they had seen it, they made known abroad the saying which was told them concerning this child.
Simple men just doing their job, that's all the shepherds were when the God of the Universe sent His angel to announce the birth of the long-awaited Savior.  What a paradoxical message these humble men heard!  A royal child had been born in the humblest of places. Yes, the greatest of all had been born among the poorest of all.
Surely they must have wondered, Why would the angels announce this great news to us?  We are the lowest among men.  Yet God handpicked those to whom the angels  proclaimed the message of Christ's birth, and I'm confident that part of the reason He chose the shepherds was because of their humility.  They had no great logic, education, nor pride to keep them from receiving His message of hope and redemption.  God selected those whom He could trust to believe and to spread the news and these were men humble yet bold, simple yet courageous, common yet extraordinary.
Had the angel told others to go search for the baby in a barn as he told the shepherds, would they have gone?  Would they have let their pride keep them from the place inhabited by animals, dirty and unpleasant? A barn was a familiar place to men used to being among animals, and they went quickly, boldly, excitedly to see the newborn Savior.  They responded to the angel's message with curiosity and compliance to his direction.  Once they found the Christ-child, they conscientiously shared this wonderful news with others.  They were simple men with a saving message.
God of the Universe, I stand in awe at your willingness to touch the lives of common men with the news of salvation.  Thank You, for Your love and grace to humble, ordinary people and for the way it changed my life.
By Ann Shorb
©Copyright Ann Shorb, 2008
LOOK WHAT'S HAPPENING AT CHRISTIAN COUNSELING & EDUCATIONAL SERVICES IN 2009!
UPCOMING THERAPY CLASSES
Anger Management Therapy Class
Mondays from 7:00 to 8:30 PM
January 5 to March 12
Hope for Survivors of Sexual Abuse
Mondays from 6:30 to 8:30 PM
March 2 to June 8
Boundaries in Marriage for Wives
Thursdays 9:00 to 10:30 AM
January 8 to March 31
NEW BIBLE STUDY
Life is Tough But God is Faithful
Tuesdays 9:30 to 11:00 AM
January 6 to April 14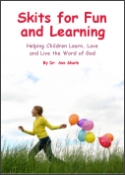 Skits for Fun and Learning
Skits for Fun and Learning is a collection of 15 puppet scripts and 5 articles on the subject of success with puppet ministries. The articles and scripts have been written by Dr. Ann Shorb and the book is available for purchase as a paperback, or as a PDF download.