Galatians 3:4
Our sufficiency is of God.
Psalm 23:1
The Lord is my shepherd. I shall not want.
With my Christmas shopping list in hand I meandered through the stores looking for just the right gifts for friends and family. What fun to be able to give to others a token of friendship and appreciation as we celebrate the birth of Christ! With so many beautiful things in the store, I had to stay focused. It would have been too easy to buy gifts that I liked and wanted rather than get something that my loved ones need, would like, or enjoy.
Isn't it interesting and exciting that when God sent that very first Christmas gift, He gave us exactly what we need and long for? He gave us Himself in the Lord Jesus Christ. Indeed He is what we need to gain eternal salvation, and He is all that we need to fill our every longing in this life as well.
Christ brings me hope when I despair, He walks beside me when I fear, He gives me wisdom when I'm confused. Many times I find His strength when I'm weary and His comfort when I'm distressed. His Word provides direction for decisions, and tells me how to live according to His will. This relationship helps me every day and it lasts the whole year through! It's just what I've always wanted!
Thank You, Lord, that You are all that I need for every need. Remind me to turn to You and not struggle to do things in my own strength, nor try to find my own way through life's journey. I praise You for the marvelous gift of Your presence that You make available to every one of us.
By Ann Shorb
Copyright Ann Shorb, 2007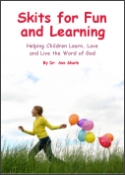 Skits for Fun and Learning
Skits for Fun and Learning is a collection of 15 puppet scripts and 5 articles on the subject of success with puppet ministries. The articles and scripts have been written by Dr. Ann Shorb and the book is available for purchase as a paperback, or as a PDF download.